Gardens of the Arts & Crafts Movement
Posted in From the Library on April 4 2019, by Esther Jackson
Esther Jackson is the Public Services Librarian at NYBG's LuEsther T. Mertz Library where she manages Reference and Circulation services and oversees the Plant Information Office. She spends much of her time assisting researchers, providing instruction related to library resources, and collaborating with NYBG staff on various projects related to Garden initiatives and events.
---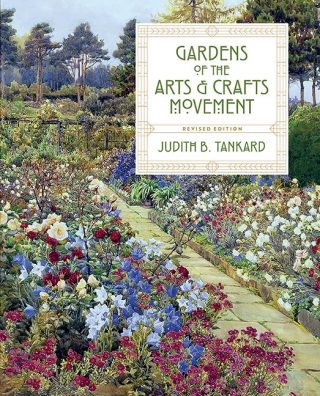 Gardens of the Arts & Crafts Movement is a beautiful book from acclaimed writer Judith B. Tankard. Tankard, who taught at the Landscape Institute of Harvard University for more than 20 years, is the author or coauthor of 10 books on landscape history (Beatrix Farrand: Private Gardens, Public Landscapes, Gertrude Jekyll at Munstead Wood), and recipient of awards from the Garden Writers Association and the American Horticultural Society. Gardens of the Arts & Crafts Movement is a revised edition of Tankard's 2004 book titled Gardens of the Arts and Crafts Movement: Reality and Imagination.
Tankard is a careful and thorough researcher, and this book shines as a well-crafted resource for readers who are interested in the Arts and Crafts movement in the United States and Great Britain. Beginning in Britain around the 1880s, before spreading to the United States, the Arts and Crafts movement placed value in traditional craftsmanship as a counter-culture reaction to the trend of industrialization. Simple forms, often from nature, were key design elements, and the movement included social reform interests that were also in keeping with the anti-industrial values of the aesthetic concerns.

Of the gardens themselves, Tankard writes:
Arts and Crafts gardens, distinguished by their exceptional architectural detailing, exemplary craftsmanship, emerald-green lawns, exquisite flower borders, and neatly clipped hedges, provided inviting, yet secluded outdoor spaces adjacent to the house. In their purist form, these gardens were designed by architects—some of whom had little knowledge of horticulture—rather than by horticulturists.
As such, Gardens of the Arts & Crafts Movement addresses all of the elements that make a garden one of this era or ethos, focusing on the various features at play within a landscape instead of honing in on plant profiles or recommendations. The book is divided into 14 chapters focused on historic topics including William Morris, the Cotswolds, architectural gardening, gardens in America, and more. For home gardeners and designers, there is also a chapter detailing important garden features for this style, a resource for designers who are hoping to capture the aesthetic of the movement. In this revised edition, two new chapters are included: "Contemporary Gardens" and "Design Inspiration."
Ultimately, Gardens of the Arts & Crafts Movement is a well-developed and well-executed work, and a must for any library—home or other—where garden design history is a topic of interest. (Additional reading: Arts & Crafts Gardens: Gardens for Small Country Houses by Gertrude Jekyll & Lawrence Weaver; Arts and Crafts Gardens by Wendy Hitchmough, with photographs by Martin Charles; and Outside the Bungalow : America's Arts & Crafts Garden by Paul Duchscherer, with photographs by Douglas Keister.)