Success with Succulents
Posted in From the Library on April 11 2019, by Esther Jackson
Esther Jackson is the Public Services Librarian at NYBG's LuEsther T. Mertz Library where she manages Reference and Circulation services and oversees the Plant Information Office. She spends much of her time assisting researchers, providing instruction related to library resources, and collaborating with NYBG staff on various projects related to Garden initiatives and events.
---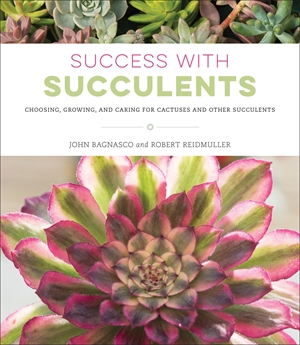 Success with Succulents: Choosing, Growing, and Caring for Cactuses and Other Succulents is a 2017 book from John Bagnasco and Bob Reidmuller. Bagnasco has worked in the gardening industry for more than 45 years, first in nurseries and garden centers, and later as a senior magazine editor and radio personality for Garden Compass. Reidmuller has worked for Altman Plants (Vista, CA), the nation's largest propagator of cacti and succulents, for over 25 years.
Success with Succulents is organized into four sections: What are Cactuses? What are Succulents?, Cactuses and Succulents Outdoors, Cactuses and Succulents Indoors, and Featured Plants. The outdoor gardening guidelines are not region-specific, although most of the species recommended would not be cold hardy in our climate. There are a few outliers—of the plants featured, it is mostly select sedums that are cold tolerant. Arguably the most useful content for our region is in the section pertaining to indoor plants, and the authors cover topics including soil, moisture, pests, and propagation, to name a few. The featured plants section is also very useful, including information about plant family, origin, culture, cold hardiness (by degree in Fahrenheit), propagation method, bloom time, and a blurb about the plant's appearance and behavior in different landscapes.
All in all, Success with Succulents is a helpful and compact resource for readers who want to care for their existing plants or add a few more plant babies to their collection.
Readers who have questions about how to care for their succulents and troubleshoot problems can contact the NYBG Plant Information Office for help. Guides about caring for succulents and cacti indoors have also been provided.