Memorial Day Weekend at NYBG
Posted in Around the Garden on May 24 2019, by Matt Newman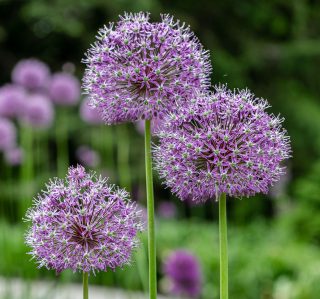 From the bobbing purple globes of the blooming ornamental onions along Daylily Walk and the showy herbaceous peonies, to the lush green collections of the Native Plant Garden and the greening trails of the Forest, this Memorial Day Weekend is a picture-perfect time to visit the Garden and spend some time among the late spring beauty. We'll even be open this coming Monday, May 27, for the holiday!
The Edible Academy is once again a thriving spot to visit with your kids as we get into spring gardening and cooking demonstrations among the vegetable beds. It's a welcome chance to get their hands dirty and celebrate nature's bounty as warmth returns to the city. You'll also find new discoveries in the Everett Children's Adventure Garden, where all-day nature exploration teaches them about the plants and animals they share their world with.
For those looking for a beautiful stroll, jump in on our Saturday Bird Walk to look for spring's scarlet tanagers and rose-breasted grosbeaks, or join one of our many experts for tours on the history of NYBG, and our Native Plant Garden's unique plants.
Don't forget that we participate in Blue Star Museums between Armed Forces Day and Labor Day! If you're active duty military, we currently offer free All-Garden Pass admission to you and up to five family members with your military ID.
There's so much to see in this season of beauty. Hopefully we'll see you in the Garden, too!