Edible Academy Fresh from the Garden Tastings
Wednesday, Saturday, & Sunday
2 & 4 p.m. | At the Garden
Get hands-on with healthy cooking using new recipes featuring plants grown in the Edible Academy. NYBG staff create these family-friendly recipes using seasonal vegetables, fruits, and herbs, and kids and adults alike can learn how garden-to-table cooking is not only nutritious, but fun, too. While you're exploring the Edible Academy, get hands-on with the crops in the vegetable garden during Dig! Plant! Grow! each month.
Want to share your own favorite recipes during Around the Table: Stories of the Foods We Love? Visit our Recipe Roundtable to submit your family's most-loved dishes to be shared online with visitors!
2022 Weekly Recipes
New recipes published every Wednesday to try at home or during demonstrations at the Edible Academy.
Recipes are available in English and Spanish.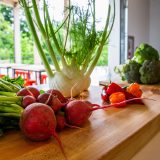 2019 Recipes
See what's cooking from the Edible Academy's kitchen.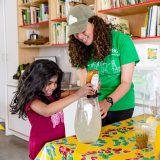 2018 Recipes
Explore all-new flavors from our Garden beds with weekly recipe demonstrations in the Edible Academy.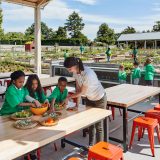 2017 Recipes
Create your own family-friendly dishes at home with these recipes from 2017's demonstrations.