Edible Academy Fresh from the Garden Tastings
Wednesday, Saturday, & Sunday
2 & 4 p.m. | At the Garden
Get hands-on with healthy cooking using new recipes featuring plants grown in the Edible Academy. NYBG staff create these family-friendly recipes using seasonal vegetables, fruits, and herbs, and kids and adults alike can learn how garden-to-table cooking is not only nutritious, but fun, too. While you're exploring the Edible Academy, get hands-on with the crops in the vegetable garden during Dig! Plant! Grow! each month.
2023 Weekly Recipes
Shared on Wednesdays, Saturdays, and Sundays at 2 pm and 4 pm, these 30-minute demonstrations are led by the Culinary Educator and DGP Educators. Educators share samples of the recipe with visitors.
Check back soon for recipes to download and try!
May 10 – Yogurt Spinach Dip
May 17 – Homemade Mayonnaise
May 24 – Carrot Top Pesto
May 31 – Fiesta Ranch Dressing
June 7 – Lemony Kale Salad
June 14 – Edible Flower Salad
June 21 – Garlic Scape Pesto
June 28 – Vegetable Stir Fry
July 5 – Peruvian Green Sauce
July 12 – Aglio, Olio and Peperoncino Collards
July 19 – Green Goodness Hummus
July 26 – Tabouli Salad
August 2 – Herbal Tea
August 9 – Herb Confetti Veggie Skewers
August 16 – Honey, Lemon, Garlic, Ginger Tea
August 23 – Honey Lavender Pepitas Brittle
August 30 – Sunny Honey Sunflower Seed Butter
September 6 – Honey Herb Butter
September 13 – Calabasas Squash, Tomatoes and Queso Fresco
September 20 – Sautéed Butternut Squash with Maple Syrup
September 27 – Honey Herb Popcorn
October 4 – Buttery Garlic Beans
October 11 – Cole Crop Slaw with Sesame Ginger Dressing
October 18 – Parsley and Basil Pesto
October 25 – Wilted Winter Salad with Jerusalem Artichoke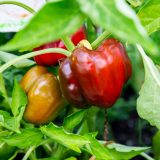 2022 Weekly Recipes
New recipes published every Wednesday to try at home or during demonstrations at the Edible Academy.
Recipes are available in English and Spanish.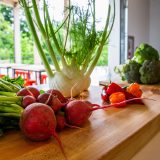 2019 Recipes
See what's cooking from the Edible Academy's kitchen.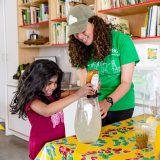 2018 Recipes
Explore all-new flavors from our Garden beds with weekly recipe demonstrations in the Edible Academy.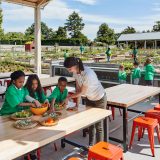 2017 Recipes
Create your own family-friendly dishes at home with these recipes from 2017's demonstrations.