Discovering the Perfect Plant for Your Garden
Posted in From the Library on May 16 2019, by Esther Jackson
Esther Jackson is the Public Services Librarian at NYBG's LuEsther T. Mertz Library where she manages Reference and Circulation services and oversees the Plant Information Office. She spends much of her time assisting researchers, providing instruction related to library resources, and collaborating with NYBG staff on various projects related to Garden initiatives and events.
---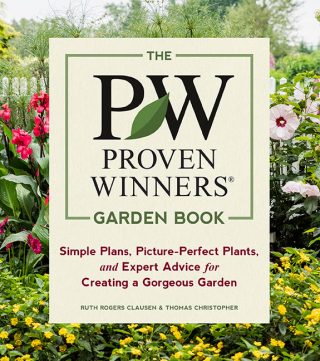 The Proven Winners Garden Book: Simple Plans, Picture-Perfect Plants, and Expert Advice for Creating a Gorgeous Garden (2019) is a new resource from Ruth Rogers Clausen and Thomas Christopher meant to encourage new gardeners with basic information about landscape and container gardening. Both Clausen and Christopher are experienced garden writers, and the resulting text is simple and clear. Proven Winners plants are recommended for a variety of settings and designs. At 192 pages with 309 color photographs and 50 drawings, it is very beginner-friendly.
Shrubs: Discover the Perfect Plant for Every Place in Your Garden (2018) by Andy McIndoe teaches readers about shrubs in the garden, and makes recommendations for appropriate plants in different growing conditions. McIndoe is managing director of Hillier Nurseries and Garden Centres in Hampshire, England, although Shrubs is written for North American audiences. The book includes information about choosing the right shrub, planting, and care, shrubs for challenging growing conditions, shrubs for restricted planting spaces, and shrubs with desirable characteristics. The format is useful. The plant recommendations can be suspect. For example, McIndoe recommends no fewer than five varieties of non-native Berberis. In four out of five instances, he notes that the genus is invasive in parts of North America. The plant profiles themselves lack what are arguably essential details. Full size and zones are noted, but not nativity, which makes the book far less useful for readers who are hoping to work with native plants. All in all, Shrubs covers a lot of ground. However, it is not useful as a single resource for those interested in the topic, especially for those who wish to garden with native plants.