Nature Play at Home
Posted in From the Library on May 2 2019, by Esther Jackson
Esther Jackson is the Public Services Librarian at NYBG's LuEsther T. Mertz Library where she manages Reference and Circulation services and oversees the Plant Information Office. She spends much of her time assisting researchers, providing instruction related to library resources, and collaborating with NYBG staff on various projects related to Garden initiatives and events.
---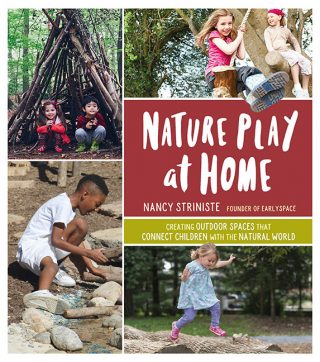 Nature Play at Home: Creating Outdoor Spaces that Connect Children with the Natural World (2019) by Nancy Striniste centers on the development of nature-friendly spaces for children to explore and learn about the outdoors. Striniste has a background as a landscape designer and an early childhood educator, and is the founder and principle designer at EarlySpace. In Nature Play, she synthesizes for readers her over 30 years of experience in creating spaces for children.
Nature Play is a delight from the first page. Striniste is an excellent writer who uses clear prose and a strong structure to guide readers in both the creation of nature-friendly spaces for children and in understanding the "why" behind certain features. Enclosures and shelter offer a feeling of safety; pathways can set a pace for how a garden should be experienced, or facilitate navigation of different spaces. The book includes instructions for 12 step-by-step nature play projects, complete with illustrations. It also provides a helpful synthesis of the current state of nature play theory. A detailed and thorough bibliography elevates the work to be a helpful reference resource for teachers and garden educators alike. As a bonus, most of the plants featured are native to North America, with non-native species indicated clearly.

For those who have children, work with children, or are simply curious about how elements of nature play can factor into cognitive development and well-being, Nature Play at Home is a timely and useful resource.
Gardening with Emma: Grow and Have Fun: A Kid-to-Kid Guide (2019) is a new book from Ontario-based daughter-father author team Emma Biggs and Steven Biggs, who previously collaborated on Grow Gardeners: Kid-Tested Gardening with Children (2015). Gardening with Emma is written in the second-person, in Emma's voice, with the 13-year-old author offering practical advice for gardening to other children who may be interested in the topic. As a format, it's very engaging. As anyone who teaches will attest, simplifying concepts so that they are accessible to beginners, while retaining enough information to be factually accurate, is not easy. Emma and Steven do this very well, meaning that the book is a nice resource for children who want to learn about gardening, and it provides the simple language and examples for educators and parents who hope to teach about these concepts as well. Illustrations by Rob Hodgson heighten readers' engagement with bright colors and whimsical, subject-appropriate content. The garden ideas themselves traverse a variety of topics, from sensory gardens ("tickling garden" and "garden of sounds") to thematic gardens ("grow a pizza" and "a giant's garden") and more. Most of the plants featured throughout the book are edible, although many also have ornamental value. For children who garden and for those who garden with children, Gardening with Emma is a charming and useful resource.