Tea: History, Terroirs, Varieties
Posted in From the Library on June 27 2019, by Esther Jackson
Esther Jackson is the Public Services Librarian at NYBG's LuEsther T. Mertz Library where she manages Reference and Circulation services and oversees the Plant Information Office. She spends much of her time assisting researchers, providing instruction related to library resources, and collaborating with NYBG staff on various projects related to Garden initiatives and events.
---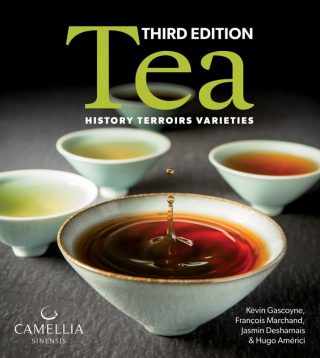 Tea: History, Terroirs, Varieties (ed. 3, 2018) by authors Kevin Gascoyne, François Marchand, Jasmin Desharnais, and Hugo Américi, takes readers into the present-day world of the culture and economy of tea.
The authors, co-owners of the Camellia Sinensis Tea House in Montreal, Quebec, give a general look at the topic of tea in four sections: "From Garden to Cup," which includes information about the cultivation and harvesting of tea; "From One Terroir to Another," which tours the world's major tea-growing regions—China, Japan, Taiwan, India, Sri Lanka, Nepal, Vietnam, Kenya, and Malawi; "From Cup to Plate," which details the preparation of tea; and "Tea and Health," which includes information about the chemical components of tea, including caffeine levels and antioxidant properties.
There is a brief section related to the history of tea, which is interesting but lacking in citations, and therefore not research-grade. A directory of 42 select teas and 15 recipes using tea, as well as recommendations about infusion accessories and teapots, offer practical guidance to readers who want to explore different aspects of tea consumption. Marketed as a reference work, the book is most useful as a contemporary snapshot of the current landscape of tea distribution, production, and culture around the world.
Readers looking for a more detailed historic treatment of tea may wish to read George van Driem's impressive (and large) The Tale of Tea: A Comprehensive History of Tea from Prehistoric Times to the Present Day (2019). This work is available for use in the Mertz Library.