Posted in Programs and Events on July 26 2016, by Miriam Flores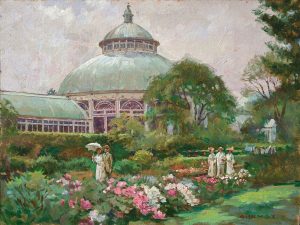 On June 19, we welcomed Artist in Residence James Gurney and 24 of the region's top plein-air painters for NYBG's first ever Plein-Air Invitational.
Organizing a Plein-Air festival was a new experience for all of us. We worked with different internal teams as well as James Gurney, who provided valuable suggestions. With his help, we selected the best locations for paintings and included models dressed in Victorian period attire. We also took pictures of the different gardens for the artists to visualize our surroundings before they arrived. We sent these images along with the event guidelines and each of the artists responded with their three ideal locations. We collected all their responses and finalized all of the logistics.
On Sunday morning, our staff was ready to welcome these expert artists. We brought lunch, welcome kits, nametags, and all of our energy to greet them. For many of the artists it was their first time visiting our grounds, and everyone was excited to share their talent and see the Garden as their muse.