Posted in Exhibitions, The Edible Garden on October 7 2010, by Plant Talk
Get the Kids to Help You, Says Award-Winning Michel Nischan
| | |
| --- | --- |
| | Michel Nischan is CEO of Wholesome Wave, sustainable food pioneer, and James Beard Award-winning chef and author. He will present a cooking demonstration at The Edible Garden Conservatory Kitchen on Monday, October 11, at 1 p.m. and sign copies of his book Sustainably Delicious after the presentation. |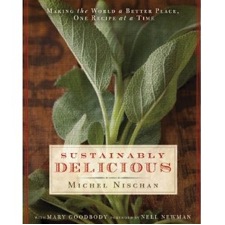 I am so looking forward to my Edible Garden presentation on October 11. And this time I am bringing two of my sons: Ethan and Chris.
In my book Sustainably Delicious: Making the World a Better Place, One Recipe at a Time, from Rodale, I talk about my experience with my kids in the garden. There is one passage that describes how Ethan discovered the amazing and sweet taste of young carrots pulled directly from the earth. And while my oldest son, Chris, complains about having to turn compost in the summer, I have heard him telling his friends how much it helps the soil and how good the food from our garden tastes.
In "The Sustainable Family" section of Sustainably Delicious, I explain how important it is to bring that same philosophy into the kitchen. Get the kids to help you, and set aside time on a weekend morning or afternoon. Divide and conquer and see how much food gets prepped for weeks to come. These can be happy hours spent working together. While the kids may grumble at the beginning, I guarantee, in the end they won't mind much. Talking and joking while you work is easy, and you might be surprised at how much fun you end up having. When it's time for supper, everyone will be eager to taste the fruits of their labor.