Posted in Around the Garden, Exhibitions on October 3 2013, by Ann Rafalko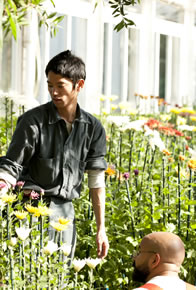 You probably know (or at least think you know) all about bonsai, the Japanese art of growing, tending, and shaping miniature trees in trays. But do you know about kiku? Where bonsai is small, kiku is large. Where bonsai is about long life, kiku is about ephemerality. Where bonsai is about a minimal aesthetic, kiku is about color, pattern, and profusion.
Or at least that is how we interpret this tradition of shaping and tending chrysanthemums in Kiku: The Art of the Japanese Garden, opening Saturday in the Enid A. Haupt Conservatory. Many of these huge chrysanthemum "sculptures" begin as one single stem, despite looking like brilliant tapestries of many flowering plants woven together. They are tended for months on end to bloom for just a few weeks. There is no way for us to extend kiku beyond their natural lifespan, so to see them in their full glory, you have got to act fast!