Posted in Programs and Events on February 21 2014, by Lansing Moore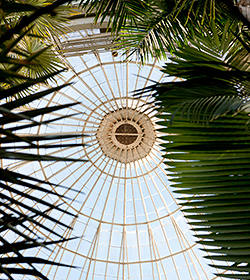 This weekend we bid farewell to the Tropical Paradise exhibition, so this weekend is the last chance to enjoy all the tours, demonstrations, and samples surrounding this trip to the tropics. After Sunday, it won't be long before the Enid A. Haupt Conservatory's next stop in the Florida Keys for The Orchid Show: Key West Contemporary, opening Saturday, March 1.
In the meantime, make sure to bring your appetite when you join us at the Garden this weekend. In addition to the usual samples of coconut, vanilla, and banana available to smell and taste during Tropical Paradise, Saturday and Sunday mark the final days of this winter's Culinary Kids Food Festival in the Dining Pavilion! From the Cheesemonger's Shop to Spice Adventures, expect a world tour of science and nutrition with plenty of hands-on fun.