Posted in From the Library on March 17 2017, by Jane Lloyd
Jane Lloyd is a volunteer in the LuEsther T. Mertz Library of The New York Botanical Garden.
---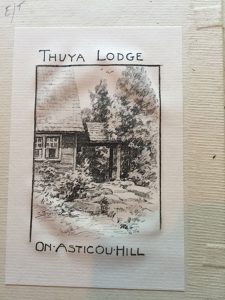 As I huffed and puffed my way up that steep path from the road to Thuya Garden high on the hillside near Northeast Harbor on Mount Desert Island, Maine, I thought that this time curiosity about the books in the Rare Book Room of the LuEsther T. Mertz Library had taken me too far. That day in July 2016 was blisteringly hot and I was sweaty and thirsty. But there it was at last, a rustic board-and-batten house with a porch, appearing out of the forest of evergreen trees and shrubs at the end of the stone path. It looked just like the drawing on the bookplates I'd found in two books in the Mertz Library.

Joseph Henry Curtis (1846-1928) began to summer at Northeast Harbor on Mount Desert Island on the Maine coast in the 1870's and later he bought a property on the slope of a mountain near Northeast Harbor, becoming one of the first summer residents of a growing summer colony of wealthy families. Curtis spent the rest of his life turning his property into a mountainside park, building a trail with granite stairways and scenic lookouts ascending the steep slope to a board-and-batten cottage that he named Thuya Lodge after the local white cedar tree, Thuja occidentalis. In 1905 Curtis created a trust to maintain his estate as a public trust for the local community; when he died his friend Charles Savage became director of the trust.