Posted in From the Library, Science on June 8 2013, by Anthony Kirchgessner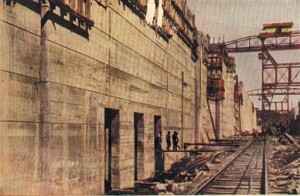 Week two of Henry Hurd Rusby's Mulford Expedition sees the Santa Elisa passing through the Panama Canal (see Week One). At the time of this writing, the Canal has been open for less than seven years, and as we read, construction is ongoing. The Canal's most profound immediate effect is a quicker and safer journey between the Atlantic and Pacific Oceans. A voyage from New York to San Francisco saves over 7,800 miles and the ship avoids navigating the hazardous Drake Passage and Cape Horn.
Dr. Rusby mentions the ceremony of the Court of Neptune, also known as the Line-crossing Ceremony, whereby a commemoration of a sailor's first crossing of the equator is performed. This ceremony is also performed for passenger's entertainment aboard civilian ocean liners such as the Santa Elisa. Few details are given by Dr. Rusby, but the ceremony has its colorful characters, including the King of Neptune and Davy Jones.