Posted in Science on July 6 2013, by Anthony Kirchgessner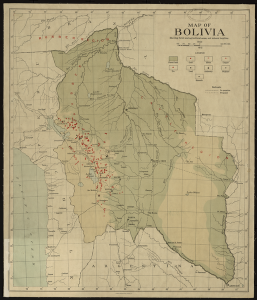 Rusby, his health still failing, is calm and collected when confronted by bandits. But efforts to get to a lower, warmer altitude are proving difficult. Additionally, the expedition supplies arrive but with a heavy price tag.
In between the struggles of securing mules for the trip out of the mountains, paying for a botched shipping job, and battling the effects of dysentery, Rusby manages a few moments to sample the local flora, hopeful of the arrival of proper drying equipment.
OFFICIAL DIARY of the MULFORD BIOLOGICAL EXPLORATION OF THE AMAZON BASIN
H. H. RUSBY, DIRECTOR
WEDNESDAY, JULY 6, 1921
Last night was not only most uncomfortable, owing to the cold, but I became anxious about my poor lung condition. It was a great relief when morning and sunshine appeared, yet I felt very bad and a little discouraged as to my future. After breakfast, with strong coffee and a little strychnine, I felt somewhat better, but the slightest physical effort caused me to gasp severely for breath.