An Inside Look at NYBG's Time Capsule of Plants
Posted in Videos and Lectures on June 21, 2017 by Stevenson Swanson
Stevenson Swanson is the Science Media Manager for The New York Botanical Garden.
---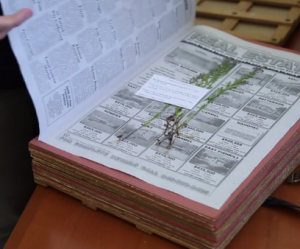 In a new video about The New York Botanical Garden's world-class herbarium, Assistant Curator Matthew Pace, Ph.D., likens the herbarium to a time capsule that "allows you to go basically anywhere in the world, back in time, and also extrapolate into the future."
The 7.8 million preserved plant specimens in NYBG's William and Lynda Steere Herbarium—the second-largest in the world—capture what the ecosystem of a region was like at a specific point in time. By knowing the environmental conditions that allow a plant species to thrive, it's possible to make predictions about how it will react in the future.

As climate change warms a region, for instance, a species that flourishes in a moderate temperature range will likely shift to cooler climes—provided it is not restricted to the top of a mountain and has nowhere to go. In that case, it could become extinct.
"Unfortunately, habitat is continually destroyed, whether it's cut down for agriculture or burned or lost due to sea level rise or climate change," Dr. Pace says. Before that happens, he adds, "We need to capture what the environment was like."
The short, entrancing video by videographer Luis Collazo is on the website Storia here.
What in the World is a Herbarium?, an exhibition in NYBG's Ross Gallery that shows visitors the central role that herbarium specimens play in the Garden's plant science and conservation work, will be on display until October 29, 2017.