What in the World is a Herbarium?
Saturday, March 4, 2017 – Sunday, October 29, 2017
10 a.m. – 6 p.m.
Explore the Work of NYBG Scientists
With more than 7.8 million preserved specimens, the William and Lynda Steere Herbarium is the largest herbarium in the Western Hemisphere. This special exhibition in Ross Gallery celebrates the Steere Herbarium as the centerpiece of the Garden's botanical research program, and a priceless resource for scholars from around the world. Through this exhibition, learn some of the many ways that Garden scientists are working to study and save the plants of the world.

What in the World is a Herbarium was made possible in part by the
Institute of Museum and Library Services [MA-10-15-0133-15]
Programs & Classes
Take part in talks, tours, and workshops with expert scientists and Herbarium staff.
Upcoming:
Pressing Plants for Art & Science
Thursdays, October 19 – November 9, 6 p.m.
From the field to the folder, this course covers the essentials of making museum- quality preserved plant specimens suitable for research, education, and decoration. Register here.
Citizen Science: Transcribing Biodiversity
Thursday, October 19 & Friday, October 20, 1–5 p.m.
Join with a worldwide community of citizens helping to uncover the extraordinary research potential of historic natural history specimens! Drop in and learn to interpret scientific collections, then participate in transcribing preserved plants from NYBG's own William and Lynda Steere Herbarium. Learn more.
Citizen Science: Archiving Natural History Collections
October 22, 11 a.m.–5 p.m.
Fordham University, Hughes Hall Room 104
Citizen scientists are needed to help mobilize and archive "big-data" for plant research! Join the NYBG Herbarium staff for an intensive all-day specimen transcription workshop. Learn about botanical collecting, then embark on virtual expeditions to document the historic collections of famous botanists on their forays across the country, and around the world! This is a free event. Learn more.
Steere Herbarium Open-House
Sunday, October 29, 12–3 p.m
Get a behind-the-scenes look into the Herbarium. See how plant specimens are prepared and digitized and learn how they are used in research and conservation. You will see a wide variety of herbarium specimens, ranging from truffles to peanuts to palms. Herbarium staff will be on hand to provide interpretation and answer questions. Learn More.
Recent Botanical Exploration in North America
January 17, 2018, 10 a.m.
Join Matthew Pace, Assistant Curator of the Steere Herbarium, as he tells tales of modern-day exploration and showcases specimens of recently discovered species, including new orchids, sunflowers, beardtongues, carnivorous pitcher plants, and a lichen named after Dolly Parton! Register here. 
Past Programs & Classes:
Opening Symposium
Entwined: Plants, Exploration, and Our Future
March 3; 10 a.m.
Exploration has been at the core of the Garden's mission since its founding—and is more urgent now than ever in the face of global environmental change. This symposium focuses on the vital role exploration plays in understanding the entwined relationships of plants to the well-being of humans and ecosystems, and the challenges for sustaining those relationships over time.
An Illustrated Talk by Dr. Barbara Thiers
Saturday, March 4, Ross Hall; 11 a.m.–12 p.m.
The herbaria are the most important source of information about the plants of the world, past, present and future. Discover how the herbarium evolved from a storage method for medicines by medieval monks to an essential tool for scientists who are working to preserve Earth's biodiversity.
Meet the Herbarium Staff
Saturday, March 4, Ross Gallery; 12–3 p.m.
Explore the exhibition and talk with Herbarium staff about their unique and important work.
Behind-the-Scenes Tours
Saturday, March 4, Meet in Ross Gallery; tours ongoing from 12–3 p.m.
Take a behind-the-scenes look at NYBG's Steere Herbarium, the second largest herbarium in the world.
Plant Collection and Preservation Workshop
Thursdays, April 6–27; 6–9 p.m.
Learn how to make your own museum-quality plant specimens in a hands-on workshop led by NYBG conservationist Daniel Atha and Steere Herbarium specimen mounter Sheranza Alli. Register here.
A Journey through Time: Early American Botanical Collections
October 5; 10 a.m.
Conservationist John Muir illustrates how dazzling American flora was to those who pushed westward, a bounty of botanists hurried to document. Discover more about these early expeditions while viewing collections created by noted 19th-century figures. Register here.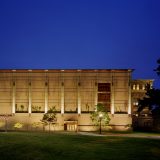 Inside the Steere Herbarium
Featured Specimens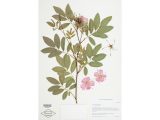 SWAMP ROSE
Rosa palustris
NYBG researcher Daniel Atha collected this lovely rose specimen in New York City's Central Park, where he is working to document all of the area's naturally occurring plants.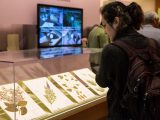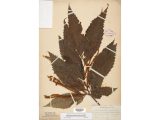 AMERICAN CHESTNUT
Castanea dentata
This was collected in the Bronx's Van Cortlandt Park, only a few years before chestnut blight was discovered on trees in the Bronx Zoo.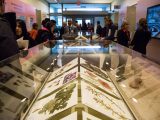 Specimens on display for the exhibition, "What in the world is a herbarium?"