Posted in Environment on August 10, 2017 by Jessica Arcate Schuler
Jessica Arcate-Schuler is NYBG's Director of the Thain Family Forest.
---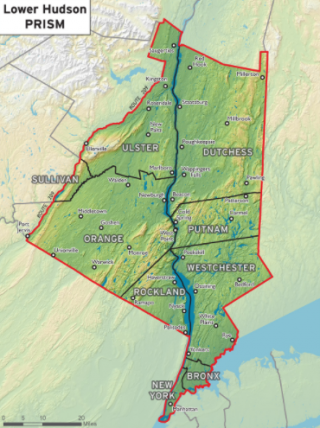 Since 2013, NYBG has partnered with the Lower Hudson Partnership for Regional Invasive Species Management (LHPRISM) to identify, monitor, manage, and educate about invasive species in our region, which includes Manhattan, Bronx, Westchester, Putnam, Dutchess, Rockland and the eastern parts of Sullivan and Ulster Counties (map image credit: http://lhprism.org/)
An invasive species is defined as a species that is non-native to the ecosystem under consideration and causes or is likely to cause economic or environmental harm or harm to human health. Did you know that there are 146 invasive plant species that threaten the Lower Hudson Region's ecosystems?
This season, NYBG hosted a citizen science training for the LHPRISM 2017 BlockBuster Survey that taught volunteers how to identify and monitor for 27 of the terrestrial plant species that have limited data in New York's online mapping program called iMapInvasives and are regional candidates for eradication and containment. In one day, 22 volunteers learned how to identify each plant species, how to sample following the survey protocol, and use an app to collect the data. What makes this survey effort unique, is the extensive regional searching for presence and absence of each of the 27 terrestrial plant species. Each volunteer or team was assigned a three-mile by three-mile grid in which they have until mid September to search for the invasive species of interest.