Posted in Environment on April 13, 2018 by Stevenson Swanson
Stevenson Swanson is the Science Media Manager at The New York Botanical Garden.
---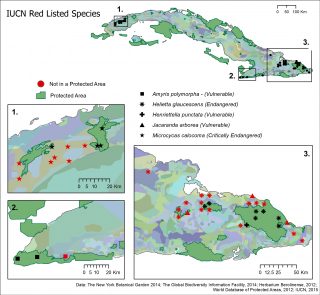 Representatives of The New York Botanical Garden and JetBlue Airways launched their new Caribbean Consortium at a recent meeting at the Botanical Garden's Pfizer Plant Research Laboratory. The consortium, which was announced in February, will address the linked issues of conservation and commerce across the Caribbean, a vital part of JetBlue's network and a longtime focus of the Garden's Plant Research and Conservation program.
With the goal of striking a balance between conservation and commerce, the consortium will bring together a cross-section of key stakeholders from business, academia, and non-governmental organizations, such as the Center for International Policy, a Washington, D.C., foreign policy research and advocacy group, whose Cuban program director, Elizabeth Newhouse, participated in the meeting. Also joining was Robert Muse, a Washington attorney who has worked on Cuban issues since the early 1990s.
"This partnership with JetBlue is going to help translate conservation research into conservation action," said Brian Boom, Ph.D., the Garden's Vice President for Conservation Strategy, who has traveled to Cuba regularly since 1988 to conduct research and build relationships with his Cuban counterparts.