Posted in Learning Experiences on June 30 2010, by Plant Talk
SOPH Student Finds Plenty to Garden Here, Even a Farm in Brooklyn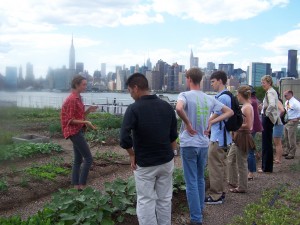 Many of us have heard of secret gardens, but how about a secret farm? Especially one that's hiding in plain sight?
Recently, I visited a rooftop farm in Greenpoint, Brooklyn. Yes, the farm was in Brooklyn. And yes, because of the lack of space, it was on a roof.
I was there on a field trip with other students from the Botanical Garden's School of Professional Horticulture. From the street you could see nothing other than the industrial buildings and the Gowanus Canal (one of the most polluted waterways in the United States).
To get to the farm, we took a gray concrete staircase up three flights. On the roof there was—honest-to-goodness—a farm. It was sort of like looking at a field in Iowa or Indiana, but with views of the Manhattan skyline. Your eye first settles on the buildings across the East River, but you quickly look away from that spectacular photo-op to see crops—tomatoes, lettuces and other greens, herbs, carrots, radishes, and more—growing in just a few inches of soil across 6,000 square feet. There's a chicken coop (those layers enjoy the best views of any chickens this side of Switzerland). And there are three beehives, whose inhabitants pollinate the plants. (The farm is so secret that even many insects and birds have yet to discover it.)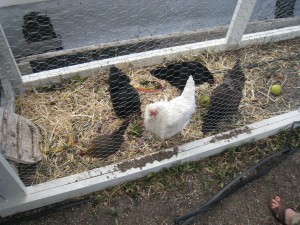 The Eagle Street Rooftop Farm is the brainchild of co-founder Annie Novak in partnership with Goode Green and Broadway Stages. Annie has become a real celebrity in the urban gardening scene. She travels the world to learn from farmers everywhere, including a recent trip to my native Peru to learn about potatoes. She's also coordinator of the Children's Gardening Program in the Ruth Rea Howell Family Garden at the Botanical Garden.