Posted in Gardening Tips on August 31 2010, by Plant Talk
Written by Burpee Home Gardens Team. Burpee Home Gardens is a Supporting Sponsor of The Edible Garden.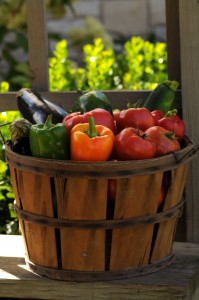 How did your vegetable garden do this year? We're sure you have numerous anecdotes about how much your garden yielded and how tasty the vegetables were. You can probably communicate about which pests visited, how the weather affected your plants, etc. That's great! Gardeners love to share all their gardening stories with others.
Now. How did your vegetable garden do this year compared to two years ago? If that question is not so easy to answer, what you need is a gardening journal. This is a handwritten notebook or computer-based document that can be your go-to gardening resource. It's your chance to record all of the great (and not so great) things that happened this planting season: From the number of plants you put in the ground and the various vegetable varieties you tried, to your weekly/daily maintenance of each plant and how they ultimately performed. Keeping track of this type of information helps make you a better, more prepared gardener when next season rolls around.