Posted in Around the Garden on October 31 2011, by Ann Rafalko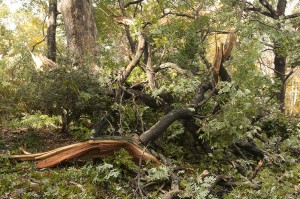 Approximately 15% of the 15,000 trees in the Garden's Thain Family Forest have sustained at least some damage.
Many of the historic trees in the Garden's beautiful magnolia collection have been damaged, even destroyed.
In the new Azalea Garden huge branches fell on new plantings and an ancient tree was lost.
The entire 250-acres of the Garden is littered with branches and tree limbs.
Our initial assessment shows that thousands of trees have been damaged and many destroyed. A complete appraisal will take weeks as much of the damage is high in the canopies of trees 100 feet tall or more.