Poetic Inspiration in the Forest
Posted in People, Video on November 16 2011, by Rustin Dwyer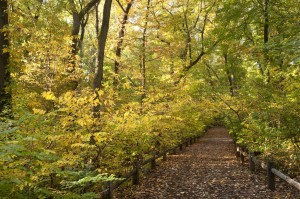 In recent weeks, we've been telling you about the addition of a literary element to our collection of audio tours. We've also been working hard to recover from October's unseasonably early snowstorm in time for the dedication of our 50-acre Forest.
In the spirit of this drive, here's a video of author Camille Rankine's poem, "Instructions on the Forest," which was filmed in and inspired by our recently rededicated Forest.

Camille was drawn not just to the diverse collection of living things that comprises the forest, but also inspired by the history of the land. The forest is the largest remnant of original, native woodland that once covered most of New York City. It is not dissimilar to plants and landscapes seen by Henry Hudson upon his exploration of the area, and is home to trees that predate the American Revolution.
When you listen to the piece below, try and imagine the members of the Lenape and other Native American tribes traveling the hunting paths that are now the open trails of the forest, passing between trees that predate not just this state, but this nation. The Forest isn't just a place of beauty, but a historical snapshot into the past as well as an instrument to help us understand what lies ahead.