The Conservatory Rainforest: Chocolate Lovers' Lane
Posted in Adult Education, Around the Garden, The Edible Garden on January 19 2012, by Joyce Newman
Just in time for Valentine's Day, sign up for "The Temptation of Chocolate" with NYBG expert Jessica Bohn, Saturday, February 11 at the Midtown Education Center.
---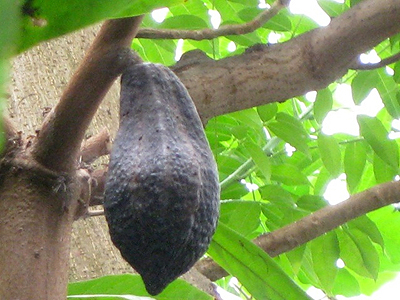 Did you know the main ingredient in chocolate comes from the fruit of the cacao tree? Perhaps you read our earlier article on "cauliflory" in trees like this one. Lucky for us there are cacao trees (Theobroma cacao) thriving in The New York Botanical Garden's tropical rainforest, a part of the Enid A. Haupt Conservatory. In fact, two of our cacao trees now have cocoa bean pods growing on them, each one about six inches long and dark brown.

Inside each of these pods are dozens of reddish-brown cocoa beans arranged in rows and surrounded by pulp. You can tell if the beans are ripe by shaking the pod to see if they rattle.
It takes up to 14 pods to produce just one pound of dry cocoa beans and about 400 roasted, ground beans to make a pound of chocolate. But contrary to the taste of the finished product you might buy in the candy aisle, cocoa beans themselves are very bitter; in fact, the word "chocolate" is from the Aztec word xocolatl, which means "bitter water."
It turns out that dark chocolate, in particular, is very good for your heart–convenient but true. The antioxidants in chocolate are called flavanols. They are naturally-occurring compounds known to have positive influences on heart health, such as lower blood pressure, lower risks of heart failure, and improved blood flow to the brain and heart. (ed. note: Want to find the best, most healthful chocolates for your Valentine? Joyce rounds up some winners in this Consumer Reports article.)
Eating a little dark chocolate can be healthful, but all good things in moderation–too much can have the opposite effect. Chocolate can contain in the range of 200 calories and eight to 18 grams of saturated fat per 1.4-ounce serving. Eaten in large amounts, this can actually do damage to your heart and expand your waistline.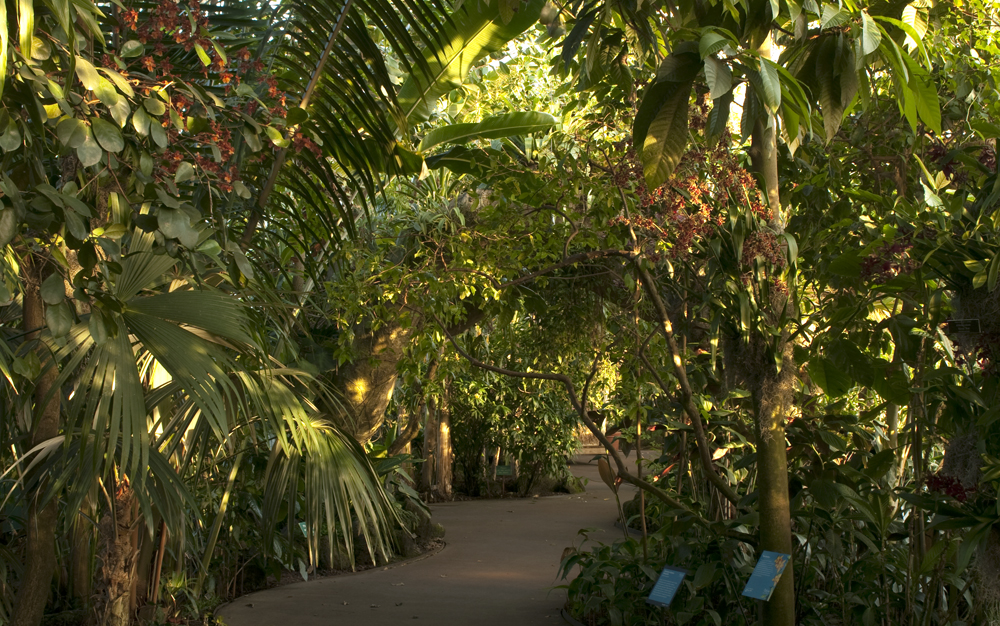 Because cacao trees grow well in the shade, the rainforest does not need to be cut down in order to grow cocoa, which is very good news as we are losing many acres of rainforest each day. By purchasing chocolate products labeled "USDA Organic" and "Fair Trade," you can support shade-grown cacao producers and sustainable harvesting practices.
Chocolate is in such high demand globally that it is important for cacao trees to continue to be grown and harvested sustainably, in a way that is safe for people, wildlife, and the environment as a whole.
---
NYBG expert Jessica Bohn reveals chocolate's fascinating botanical background, how it can be grown organically, and how it is marketed through fair-trade practices. Join her on Saturday, February 11 from 3 to 5 p.m. at our Midtown Education Center in Manhattan for "The Temptation of Chocolate," or register for the all-day session on "The Botany of Indulgence."