Posted in Adult Education, Around the Garden, Learning Experiences, Photography, Wildlife on March 15 2012, by Joyce Newman
Joyce H. Newman is the editor of Consumer Reports' GreenerChoices.org, and has been a Garden Tour Guide with The New York Botanical Garden for the past six years.
---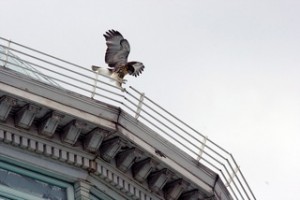 Walking by the NYBG Library Building yesterday, we spotted a huge Red-tailed Hawk as it swooped across the trees and sailed to the top of a giant oak. During the daytime, these hawks are the top avian predators in our area and very impressive to behold (at night, the Great-horned Owls reign supreme). A group of bird watchers on the path gazed upward with large binoculars and telescopes.
Maybe this bird is a distant cousin of Pale Male, the famous Red-tailed Hawk who settled in Manhattan in the 1990s, defying hazardous urban living conditions and continuing to produce young hawks to this day. Or it could be a cousin of last year's celebrity Red-tailed Hawk, Violet, who enchanted the residents of Washington Square Park in Manhattan before succumbing to a heart condition. Or perhaps it is one of the Garden's own celebrity hawks, Rose and Vince, or one of their many, many offspring.