Posted in Wildlife on May 4 2017, by Patricia Gonzalez
Patricia Gonzalez is an NYBG Visitor Services Attendant and avid wildlife photographer.
---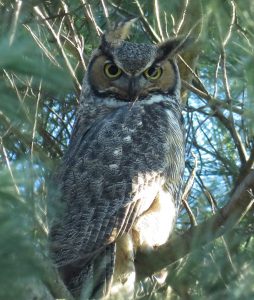 Some of my favorite photographic subjects here at the Botanical Garden are its resident Great Horned Owls. Since 2009, I've had the pleasure of photographing and filming five of their nest sites. Sadly, 2014 was the last year that there were hatchlings here. That's why this year's brood was so special. But 2017 saw no ordinary owl nest. This is a tale of epic proportions!
Back in 2009, a pair of Red-tailed Hawks decided to build their nest inside the upper right pediment of the LuEsther T. Mertz Library Building. Rose and Hawkeye (the Red-tails that year, who are sadly no longer with us) had three hatchlings that year. It was a big deal for both staff and visitors. Each year since, I've always crossed my fingers in the hopes that one day the nest would be used again by our local Red-tails.
And it was used again alright. But by a completely new set of tenants!