Book Review: A Beautiful Way to Introduce Children to Reading & Nature
Posted in Children's Education, From the Library, Shop/Book Reviews on March 4 2016, by Esther Jackson
Esther Jackson is the Public Services Librarian at NYBG's LuEsther T. Mertz Library where she manages Reference and Circulation services and oversees the Plant Information Office. She spends much of her time assisting researchers, providing instruction related to library resources, and collaborating with NYBG staff on various projects related to Garden initiatives and events.
---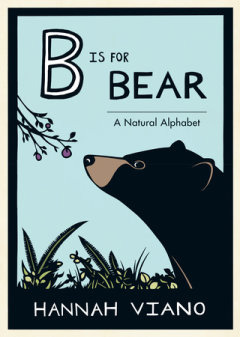 B is for Bear is the newest addition to the Mertz Library's collection of juvenile literature*. This is the third book from paper artist Hannah Viano, who has also written the books S is for Salmon: A Pacific Northwest Alphabet and Arrow to Alaska: A Pacific Northwest Adventure.
B is for Bear is an alphabet book featuring plants, animals, and other ecological features in North America. The illustrations were created by cutting away black paper "to reveal the essential shapes and lines" of the elements of nature profiled by Viano. The "revealed" areas were then filled in digitally with subdued pastels. The result is simply beautiful. Examples of Viano's work, including several illustrations from B is for Bear, can be seen on her website.
Upon opening the book, the reader sees one letter to a page, with the exception of "A" and "Z," which bookend the collection with two-page spreads. Viano picks an eclectic set of organisms and concepts to illustrate, which makes reading the text unpredictable, echoing the adventures promised by the outside world. Each page includes an uppercase and lowercase letter in the upper left corner. The associated word, all in capital letters, appears in the upper right corner. An illustration dominates the central part of the page which finishes with a short, factual sentence about the plant, animal, or natural phenomenon depicted.
Because of its format and beauty, B is for Bear is appropriate for readers of varying ages. Very young readers might use the text to learn the alphabet, while slightly older readers—the young and the young at heart—can use the book to learn interesting facts about the natural world. This is a children's book with artistic sensibilities, dedicated to "all of those who let children run a little wild" and appealing to all who are looking for a reason to be lured into an outdoor adventure.
*This collection circulates to Members and Volunteers