Book Review: Gardener's Yoga by Veronica D'Orazio
Posted in Around the Garden, From the Library, Shop/Book Reviews on May 5 2016, by Esther Jackson
Esther Jackson is the Public Services Librarian at NYBG's LuEsther T. Mertz Library where she manages Reference and Circulation services and oversees the Plant Information Office. She spends much of her time assisting researchers, providing instruction related to library resources, and collaborating with NYBG staff on various projects related to Garden initiatives and events.
---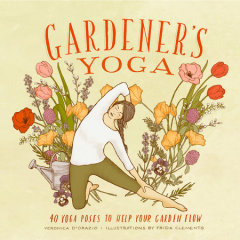 Gardener's Yoga: 40 Yoga Poses to Help Your Garden Flow immediately caught my eye when I saw it featured as a new book at the University of Washington Botanic Gardens Elisabeth C. Miller Library. Written by Veronica D'Orazio and illustrated by Frida Clements, this 2015 edition includes new artwork and more poses than the 2005 publication by the same name from D'Orazio.
Gardening is often praised for the health benefits it provides. Those who garden or have gardened regularly can attest to the physical challenges and demands of the hobby or profession, and the full-body workout that gardening can often provide. Gardener's Yoga positions itself as a resource that will allow readers to ease the aches and pains associated with gardening, and strengthen muscle groups often used in common garden chores. Additionally, the yoga poses that have been selected are intended to be easy on the hands and knees, as these areas of the body often withstand repetitious movement when gardening.
The book is broken up by season and presents different yoga flows designed to accommodate the environmental and emotional challenges and opportunities that gardener yogis face throughout the different months. Each sequence includes 10 poses (also known as asanas) that can be repeated in sequence as many times as desired. All asanas are illustrated for readers and beautifully complemented with simple botanical illustrations reflecting the flora of the season (which is about as "botanical" as this book gets). At the end of the book, each flow is presented in a simple two-page "flow chart" that illustrates all of the poses for the season in the order that they should be performed.
This book is meant to be used by the "average-level yoga practitioner." All of the poses included in Gardener's Yoga are beginner-friendly, but new yogis would do well to gain some classroom experience before embarking on an unassisted and unsupervised yoga practice. D'Orazio offers explicit instructions about how to transition between poses, but certain asanas benefit from an instructor's guidance—especially those that may place undue stress on areas such as the knees or back when attempted incorrectly. Goddess pose, or Utkata Konasana, featured in the Winter flow, is an example of such a pose.
Gardener's Yoga will appeal to new and existing gardener yogis, as well as to yoga teachers who are looking for inspiration in crafting seasonal flows.