Natural Color: Vibrant Plant Dye Projects for Your Home and Wardrobe
Posted in From the Library, Shop/Book Reviews on October 24 2016, by Esther Jackson
Esther Jackson is the Public Services Librarian at NYBG's LuEsther T. Mertz Library where she manages Reference and Circulation services and oversees the Plant Information Office. She spends much of her time assisting researchers, providing instruction related to library resources, and collaborating with NYBG staff on various projects related to Garden initiatives and events.
---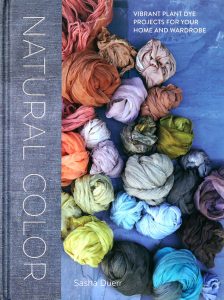 Natural Color: Vibrant Plant Dye Projects for Your Home and Wardrobe has the look of a book that is waiting to be touched.  With its slightly-textured cover materials and luscious cover photo it draws the eye while subtlety hinting at the projects it contains. This book by Sasha Duerr, published with Ten Speed Press, builds in part off of her earlier publication The Handbook of Natural Plant Dyes which was published in 2010 with Timber Press.
Natural Color opens with a gorgeous image of a passionflower (Passiflora edulis) photographed by Aya Bracket. Bracket's photos coupled with precise and artistic page layouts make this book about practical handicraft a work of art in and of itself. Even those who have not dyed materials (and perhaps have no real desire to do so) can appreciate the beauty of this work. Duerr's couching of her dyeing ethics within permaculture is both intriguing and accessible. One of the names associated with "slow fashion," Duerr champions both self-sufficiency for people as well as respect for and harmony with the natural world. Many of the projects in Natural Color make use of cultivated garden plants, non-native plants that have become "weeds," and plants that can be sustainably and responsibly harvested.
Arranged like a cookbook with projects called "recipes," Natural Color presents dyeing exercises based on seasons and the plants available. For example, projects in spring make use of avocado pits, rose petals, plum branches, mint, oxalis, and calendula. Duerr does identify the plants she uses by their botanical names, but tends to refer to them by common name. (There were two minor errors noted regarding names: Persicaria tinctoria is called Persicaria tinctorium on page 93, and Hibiscus is written as "Hibisucus" on page 232.)  It is important to note that some of the plants profiled in Natural Color could be grown successfully in Oakland or San Francisco, California (the author's home), but probably couldn't be grown in the northeastern US.  Regional substitutions would be possible, but it is likely that only dyers with some experience could modify the given recipes successfully.
The recipes themselves are written in narrative fashion with clear steps included. Diagrams and photo instruction are not included for the most part save a brief "techniques" section at the end of the book. Recipes are tailored to instruct readers about dyeing specific materials, such as "sweet gum leaf watercolor wall wash," "sunflower seed wool rug," and "aloe tunic." Since readers are encouraged to experiment and "play," variations on recipes for the purpose of dyeing other materials is left to the creativity and discretion of the dyer.
With an introductory section of approximately 40 pages, Duerr does an excellent job of introducing novice dyers to key concepts, best practices, and necessary tools for dyeing. Experienced dyers will note that Duerr does a good job of discussing the more technical aspects of dyeing including mordants and preparing fibers for dyeing.  Duerr does not, however, talk about "color fastness," nor about what colors different dyes may fade to over time. A natural color palette is included at the end of the book, illustrating what different plant dyes look like depending on the mordant used. However, it is unclear which fiber was used to make the palette and variations between fibers are not illustrated. Since dyeing is an art as much as it is a science, dyers are encouraged to keep their own recipe and swatch books with detailed notes about the dyeing process, including plant material used for dyeing, fibers, mordants, water pH, etc.
All in all, Natural Color is a remarkably beautiful book, a rich source of information and inspiration, and a lovely addition to the libraries of seasoned dyers and novice enthusiasts alike.
Thank you to Tom Zanoni for his generous and helpful insight into the process of dyeing with plant materials and for his review of botanical names.