Posted in From the Library on June 5 2017, by Esther Jackson
Esther Jackson is the Public Services Librarian at NYBG's LuEsther T. Mertz Library where she manages Reference and Circulation services and oversees the Plant Information Office. She spends much of her time assisting researchers, providing instruction related to library resources, and collaborating with NYBG staff on various projects related to Garden initiatives and events.
---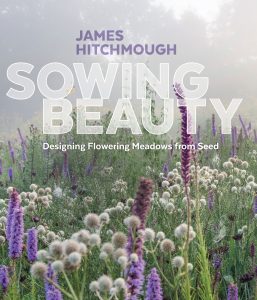 Sowing Beauty: Designing Flowering Meadows from Seed is a new book from James Hitchmough and Timber Press. Hitchmough is an established author of popular garden writing as well as a respected academic. Sowing Beauty offers readers a hybrid of academic and popular writing related to meadow garden creation featuring plants from around the world.
In addition to an introduction and appendices, the book itself is separated into sections titled "Looking to nature for inspiration and design wisdom," "Designing naturalistic herbaceous plant communities," "Seed mix design, implementation, and initial establishment," "Establishment and management," and "Case studies of sown prairies, meadows, and steppe."
Sowing Beauty is an attractive and interesting book, but a hard one to classify. The book centers around Hitchmough's unique style and somewhat radical practice of sowing meadows from seed. Sowing Beauty is home gardener-friendly in terms of content, detailing the process of meadow-sowing from start to finish. Readers learn to create seed mixes, sow their seeds, and maintain their meadows over time.