Interns Take to the Garden for the 5th Annual Green Industry Field Day
Posted in Adult Education on August 4 2017, by Charles Yurgalevitch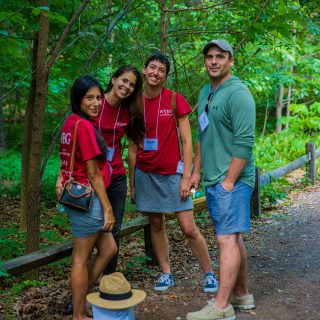 This year's Hortie Hoopla on Wednesday, July 19, began with a surprise Skype appearance by Fergus Garrett, Head Gardener at Great Dixter, UK, sitting in the beautiful living room at Great Dixter. Todd Forrest, NYBG's Vice President for Horticulture and Living Collections, introduced Fergus to the crowd of 225 young horticultural interns and staff from the tri-state area.
Fergus spoke about the importance of training in the art of gardening and experimentation that is at the core of horticulture, and told the audience about Great Dixter founder Christopher Lloyd and his dedication to teaching people about plants. Afterward, NYBG School of Professional Horticulture Director Charles Yurgalevitch introduced the audience to five successful and respected leaders in the green industry from around New York City, who briefly told the interns how they became interested in plants and the various things they tried—some not always successful—to get where they are today.

The five speakers included:
Francisco Davila, Arborist Supervisor at Prospect Park Alliance, who spoke about how it took him several years to figure out that trees were his true calling;
Louis Bauer, now director of horticulture at Wave Hill, who spoke about how his family influenced his passion for plants and how he eventually wound up at Wave Hill under the tutelage of Marco Polo Stufano;
Melanie Sifton, Vice President of Horticulture & Facilities at Brooklyn Botanic Garden, who told the interns about how she took chances, even volunteered at the Royal Botanic Garden in Sydney, Australia, where she got to work with their team of scientists, gardeners, and interpretation folks on the Sex & Death exhibition of orchids and carnivorous plants;
Rashid Poulson, Horticulture Supervisor at Brooklyn Bridge Park, who started his horticulture career in 2009 as a trainee at the Million Trees Training Program, and was a gardening intern with Friends of the Highline, and a seasonal gardener who worked his way up to his current position at Brooklyn Bridge Park; and finally,
Francisca Coelho, the NYBG Vivian and Edward Merrin Vice President for Glasshouses and Exhibitions, who shared her story from growing up in Trinidad to her first position with Shell Oil Company at the age of 22, to studying at NYBG's School of Professional Horticulture where she got her first green job and advanced over a 35-year career to her current position.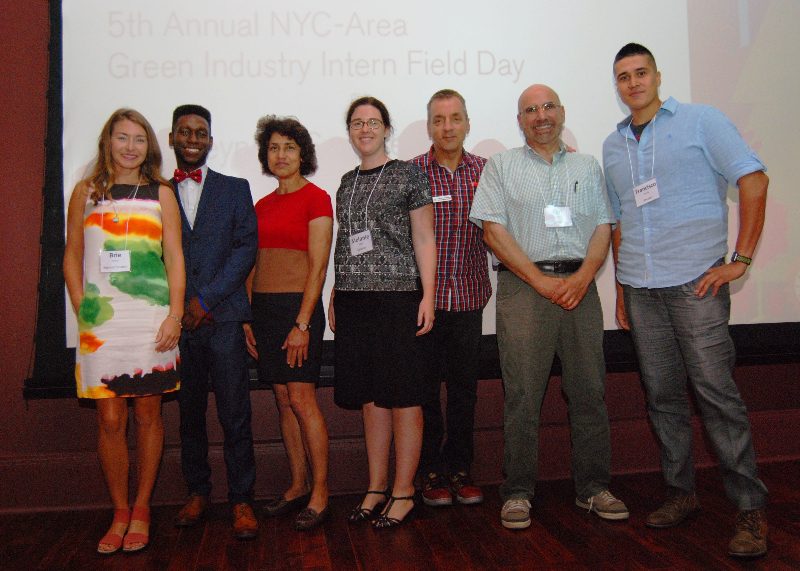 Next up was Ken Druse who, after telling the audience how he got his start in horticulture, went on to conduct a short Q&A. He asked individuals in the audience about their goals and dreams, and then mixed up the crowd by asking each person to turn around and ask the person behind them to answer those same questions.
The keynote speaker Brie Arthur started her talk by first taking a selfie with her selfie stick, explaining it was for her mom—and capturing the attention of this young audience. She talked about her start in horticulture and then moved on to topics she's captured in her new book, The Foodscape Revolution, such as "food gardening," which involves inter-planting edibles with non-food ornamental plants for year-round beauty. Brie showed a new way of looking at public and private spaces, where aesthetics and function operate together to benefit individuals and entire communities. In other words, reinventing the common landscape!
After the presentations, the crowd broke up to explore the Garden's 250 acres, complete with three site visits, a plant ID contest, and the big finale of picnic and prizes at the Clay Family Picnic Pavilions.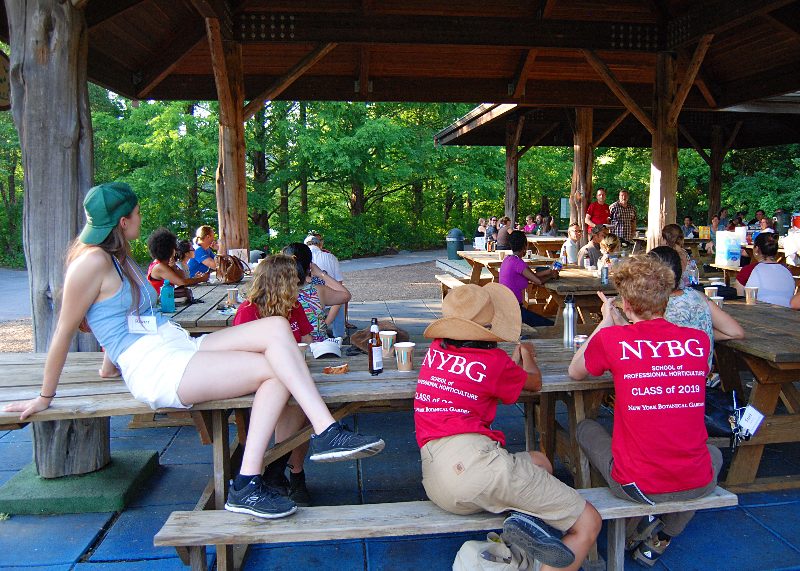 The first stop among the sites to visit was the Native Plant Garden, a 3.5-acre garden designed by Sheila Brady of the landscape architecture firm Oehme van Sweden. Michael Hagen, Curator of the Rock Garden and the Native Plant Garden, was on hand to answer questions about the multitude of native plants from a steady flow of visitors over the two-hour visit.
From there, interns and guests moved on to the walk through the Thain Family Forest, where over 100 guests experienced the wonder of walking through our old growth forest—the largest remnant of forest that once covered much of NYC (and the primary reason Lord Britton, in 1895, chose this land as the site for The New York Botanical Garden). From Forest Gardeners Erica Deluca and Maria Martello and longtime NYBG volunteer Jeanne Lapsker, M.D., they learned about our active management plan to encourage natural ecosystem processes and mitigate anthropogenic disturbances. According to Jeanne Lapsker, "many questions were asked regarding sustainable forest management and what species were invasive in this forest."
The third and final site to see was the Green Materials Recycling Center—a composting facility which opened earlier this year. According to Urban Soil Institute Soil Scientist and Lab Manager George Losefski—who spoke with visitors along with Kurt Morrell, NYBG's A.P. Farm Associate VP for Landscape Operations, Arboretum & Grounds, and Kathy Vazquez, Compost Coordinator—"the Interns were quite curious and enthusiastic to learn about the various types of soil and landscaping materials I had on display and why soil conservation in an urban environment was so important. Quite a few interns were either already working in some capacity as "stewards of sustainability" or wanted to know how they could be more involved. Many inquired about the benefits of making compost and reusing the green/brown materials that were generated from the landscaping and maintenance activities at the Garden year-round."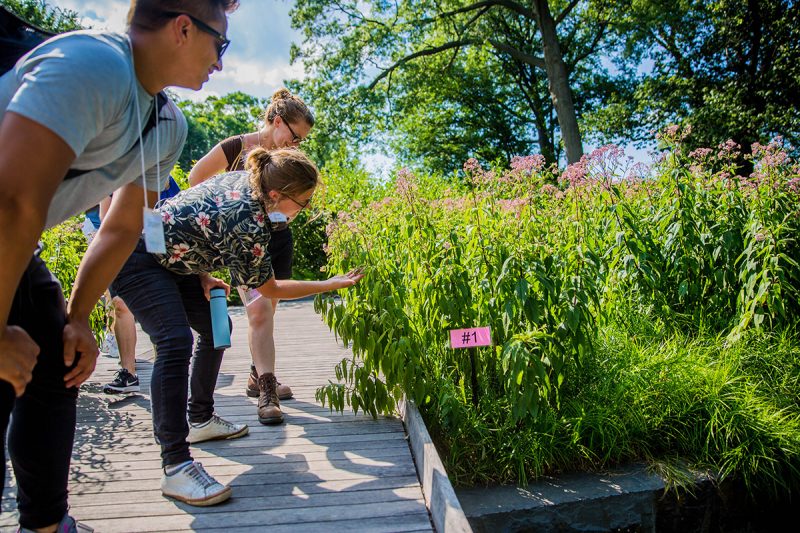 The day's events concluded with a picnic at the Clay Family Picnic Pavilions (thanks to the support of many local partners), where prizes were awarded for the Plant ID contest, the Botanical Word Puzzle, and the best Hortie Joke. As the largest gathering so far in its five years, with a record 225 attendees, the event brought hope to all that the field of horticulture is alive and thriving. One intern, Chiara, remarked, "It was wonderful to spend a day in a lovely place hearing encouraging and supportive messages. I ended the day with renewed energy for my learning journey." Adam, a horticulturist who brought interns, shared: "It was a really inspiring day and a reminder that we are doing awesome work in the field of horticulture." Hortie Hoopla V also lived up to its name—as a good time was had by all!