School of Professional Horticulture
The School of Professional Horticulture is accepting applications in advance of its August 1 deadline for a January 26, 2022 start date. Learn more.
---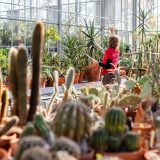 School of Professional Horticulture's Open House
July 7; 6 p.m. EDT
Online

Join us for our Virtual Open House and learn more about the School's accredited program, one of the few hands-on horticulture training programs in the world.
You will have the opportunity to speak with select faculty and staff and distinguished alumni.
To register, please contact the School Manager, Eric Lieberman, elieberman@nybg.org.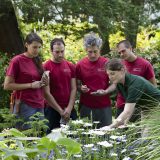 About Our Program
For nearly 90 years, the School of Professional Horticulture at The New York Botanical Garden has been training the world's leading horticulturists. The School's program is one of few around the world that combines top-notch academics with hands-on training, including plant walks, field trips, internships, and special lectures.
Working alongside the Garden's Horticulture staff in the unique setting of New York City offers students an unparalleled horticultural education. Our students are highly sought-after for internships and full-time, year-round employment, with a 100% rate of job placement over the past 8 years! Alumni find exciting careers in public parks and gardens, landscape design/build firms, or private estates all over the world.
Mission & History
Begun in 1919 at The New York Botanical Garden as a horticulture vocational training program for returning war veterans, distinguished horticulturist Thomas H. Everett expanded the School into a professional gardener-training program in 1932. An alumnus of the Royal British botanical gardens, Kew, Everett modeled the School after the programs at British botanical gardens, which combined practical and academic work.
Today, the School seeks to educate and train motivated individuals to become horticulturists of the highest caliber equipped to succeed in green industry leadership positions in both public and private sectors. The School combines academic studies with hands-on practical training in a two-year, full-time program. Students learn the science of horticulture in the classroom and practice what they learn on Garden grounds. After successfully completing the program, students receive The New York Botanical Garden's Diploma in Horticulture.