Posted in Adult Education on August 4 2017, by Charles Yurgalevitch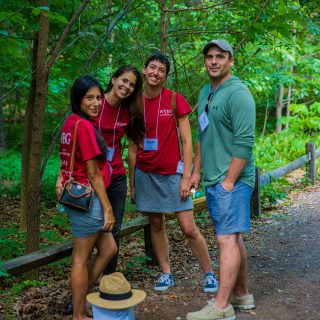 This year's Hortie Hoopla on Wednesday, July 19, began with a surprise Skype appearance by Fergus Garrett, Head Gardener at Great Dixter, UK, sitting in the beautiful living room at Great Dixter. Todd Forrest, NYBG's Vice President for Horticulture and Living Collections, introduced Fergus to the crowd of 225 young horticultural interns and staff from the tri-state area.
Fergus spoke about the importance of training in the art of gardening and experimentation that is at the core of horticulture, and told the audience about Great Dixter founder Christopher Lloyd and his dedication to teaching people about plants. Afterward, NYBG School of Professional Horticulture Director Charles Yurgalevitch introduced the audience to five successful and respected leaders in the green industry from around New York City, who briefly told the interns how they became interested in plants and the various things they tried—some not always successful—to get where they are today.