Hortie Hoopla
Wednesday, July 19, 2017
11 a.m. – 6 p.m.
5th Annual NYC-area Green Industry Intern Field Day
Hortie Hoopla V
With Keynote Speaker—Brie Arthur
Wednesday, July 19, 2017 @ NYBG
Event: 11 a.m.–dusk
Join NYBG for its annual event for interns and seasonal employees involved in the green industry. This free industry-sponsored event features remarks from top horticulturists around the Tri-State Area. Come view the Garden's collections and talk with our Horticulture curators, test your plant ID skills with a contest, and conclude the day with food and refreshments, games, and prizes.
The School of Professional Horticulture is proud to announce that the 2017 keynote speaker is Brienne Arthur. Author of The Foodscape Revolution (2017), she is leading the national suburban foodscape movement, a model of community development that incorporates sustainable, local food production. Brie is the first recipient of the American Horticultural Society's 2017 Emerging Horticultural Professional Award, given in the early stages of an individual's career, and recognizing significant achievements that have advanced the field of horticulture in America.
To Register: R.S.V.P. with the name and e-mail address of each person attending, and the name of your organization to Eric Lieberman at 718.817.8580 or elieberman@nybg.org. Space is limited to one supervisory staff member per group of interns. Read more about the Program of Events, below.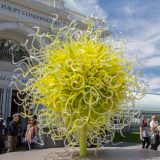 SEE CHIHULY
Arrive early to view the breathtaking works of art created by world-renowned artist Dale Chihuly in his first major garden exhibition in New York in more than ten years.
Program of Events
11 a.m.—Early Registration
Lunch on Your Own (Pine Tree Café open all afternoon)
12:30–3 p.m.—Arthur and Janet Ross Lecture Hall
Welcome: Todd Forrest, Arthur Ross Vice President for Horticulture and Living Collections
My Stories:

Francisco Davila—Prospect Park Alliance Arboriculture Supervisor
Louis Bauer—Director of Horticulture, Wave Hill
Melanie Sifton—Vice President for Horticulture, Brooklyn Botanic Garden
Rashid Poulson—Horticulture Supervisor, Brooklyn Bridge Park
Francisca Coelho—Vivian and Edward Merrin Vice President for Glasshouses and Exhibitions, New York Botanical Garden

Presentation: Ken Druse, author/photographer
Keynote Address: Brienne Arthur, author of The Foodscape Revolution (2017)
3–5 p.m.—Visit the Thain Family Forest, Native Plant Garden, and Green Materials Recycling Center (new composting facility), see hands-on composting demonstrations, and Plant ID contest (ongoing)
5 p.m. to dusk—Food and refreshments, fun, games, and prizes in the Clay Family Picnic Pavilion
Food and drink generously provided by:
Floral Landscape Services
Etain Health
Landcraft Environments, Ltd.
Mario Bulfamante & Sons
Bartlett Tree Experts
NY State Arborists Association
Riverside Park Conservancy
The Bronx Brewery