Exploring Urban Gardens with City Green
Posted in From the Library on November 29 2018, by Esther Jackson
Esther Jackson is the Public Services Librarian at NYBG's LuEsther T. Mertz Library where she manages Reference and Circulation services and oversees the Plant Information Office. She spends much of her time assisting researchers, providing instruction related to library resources, and collaborating with NYBG staff on various projects related to Garden initiatives and events.
---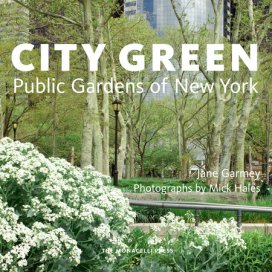 City Green: Public Gardens of New York (2018) is a delight. Written by Jane Garmey with photographs by Mick Hales, City Green highlights iconic and more hidden gardens in the five boroughs. Garmey is the author of several books about gardens including Private Gardens of the Hudson Valley and Private Gardens of Connecticut. For readers who enjoy gardens and who live in and around New York, the book is a lovely escape. Readers will see old friends in new ways and learn new details about the history and purpose of more familiar spaces.
Twenty-five gardens are featured, most of them in Manhattan and the Bronx, and most photographed at their peak seasonal interest. Three gardens at NYBG are treated—the Native Plant Garden, the Peggy Rockefeller Rose Garden, and the Enid A. Haupt Conservatory. Some readers will have likely visited all of the gardens in City Green and will be inspired to revisit their favorites. For those who have not made it to all 25 featured gardens, the book represents a very achievable list of gardens to visit in the coming year. As the holiday season approaches, this book would make a very nice holiday gift for someone who loves gardens and loves New York.