Please note: Access to the Haupt Conservatory is limited and available only to Garden Pass + Conservatory ticket holders.
Rediscover the Haupt Conservatory and Plants from Around the World
Restoration of the iconic Enid A. Haupt Conservatory palm dome is now complete and, in accordance with New York Forward safety guidelines, this New York City Landmark's indoor galleries have reopened with very limited capacity. Rediscover our magnificent glasshouse with galleries featuring aquatic plants and vines, lush tropical rain forests, cactus-filled deserts, and many other natural habitats—and its palm dome, an architectural gem newly replanted with majestic soaring species from around the world.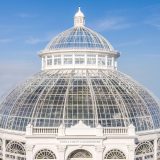 Learn about the Palm Dome Restoration
Constructed by Lord & Burnham Company and completed in 1902, the Haupt Conservatory is considered one of the most superb glasshouses of its time. Conservatory restoration projects occur approximately every 20 years, and this most recent restoration helps ensure that the collections of displays of palms from around the world beneath it continue to thrive.
The project upgraded the infrastructure of the dome, including the mechanical operation of the dome windows, misting system, heating, and lighting. The painted wood cladding around the drum and the wood cornice was also replaced with aluminum, which requires less maintenance. The newly designed and replanted palm collection highlights the history of tropical plant research at NYBG and the economic and ecological importance of the palm family—presenting new plants that help us better tell the stories of palm diversity, conservation, and evolution.