Your Long Weekend Plans—Holiday Train Show & More
Posted in Around the Garden on January 18 2020, by Matt Newman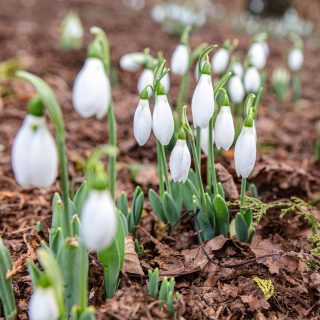 The long weekend is here, and just in time for the final week of the Holiday Train Show! Don't miss your chance to see our botanical homage to famous New York sights—and explore plenty of our other events and activities. Bring your little ones for the last performances of All Aboard with Thomas & Friends, head to the Mertz Library for a look into the architectural history of our landmark Haupt Conservatory, get outside to explore winter interest—like newly emerging snowdrops—in our collections, and so much more.
With NYBG being open for Martin Luther King Jr. Day on Monday, January 20, it's the perfect time to catch the Holiday Train Show before it disappears for the winter. The show continues through January 26 with all-new highlights from Central Park.

It's also your last chance to catch Thomas & Friends with your little ones. Join Thomas and Driver Sam for Thomas Cleans Up, a brand-new, fun-filled, sing-along adventure where you can help them figure out how to recycle everything properly in order to protect the environment and save Earth's precious natural resources. Don't forget that your ticket includes access to the Holiday Train Show as well!
Over in the Everett Children's Adventure Garden you'll also find Evergreen Express, where kids can pretend to ride the rails, hike winter trails to discover evergreen trees and shrubs, and put on a winter woodland puppet show. Afternoons and weekends bring even more fun with botanical crafts and sing-alongs.
There's plenty happening for adults, too! Our new Exhibit Lab: Flavors of Morocco fills Ross Gallery with information on the spices—sourced from plants all over the world—that make the cuisine of Morocco such a culinary crossroads. And in the Mertz Library Art Gallery, you'll find an all-new exhibit highlighting the rich history of the Enid A. Haupt Conservatory. From Cornice to Cupola illustrates our landmark Victorian glasshouse's exceptional design and construction with plans, drawings, and photographs from the Garden's Lord & Burnham Co. collection.
Once you've seen what's on offer indoors, head outside to take in the beauty of our winter landscape with a selection of expert-led tours that highlight our majestic trees, the Thain Family Forest's winding paths, and more. It's all happening this long holiday weekend at the Garden!