Holiday Train Show®
Wednesday, November 22, 2017 – Monday, January 15, 2018
10 a.m. – 6 p.m.
Enchanting model trains zip through a display of 150 landmarks, each re-created with bark, leaves, and other natural materials—all under the twinkling glow of the Enid A. Haupt Conservatory. Marvel at G-scale locomotives humming along among familiar sights such as the Brooklyn Bridge, Statue of Liberty, and Rockefeller Center on nearly a half-mile of track.
The Holiday Train Show 2017—Tell Your Story!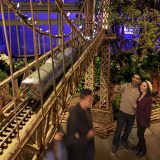 In the News
See what top news outlets had to say about the most recent Holiday Train Show®!