Posted in Horticulture on August 30 2017, by Katherine Wagner-Reiss
Katherine Wagner-Reiss has her certificate in botany from NYBG and has been a tour guide here for two years.
---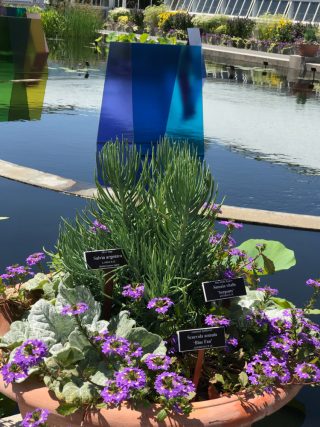 Dale Chihuly has said that he enjoys displaying his art in botanical gardens because they can bring plant lovers a greater appreciation of art and vice versa.
I see this concept at work in NYBG's CHIHULY exhibition. As you enter the Conservatory Courtyards to see Koda Study #3, you are treated to planters filled with complementary flowers. Quite striking is Scaevola 'Blue Fan', an annual whose common name is fanflower or, even more imaginatively, fairy fanflower. As you look down at the flower, it looks as though it has been cut in two; there is only half of a corolla tube But look closer and instead of a fan, you may see a left hand with five fingers.
As usual, I find the Latin name to be so much more exciting than the common name: Scaevola means "left-handed," and aemula means "to imitate."
Both Linnaeus (1707–1778), who is credited with naming the genus Scaevola, and Robert Brown (1773–1858), who named the species Scaevola aemula, most certainly knew the famous story of the Roman soldier Gaius Mucius: a man so brave that he thrust his right hand into fire and let it burn into uselessness to demonstrate his bravery when he was captured by the enemy. Astonished, the enemy released Gaius Mucius and, after that, he and his descendants were tagged with the surname of Scaevola. Even today, school children in Italy are familiar with this story.