Posted in Wildlife on September 11 2013, by NYBG Science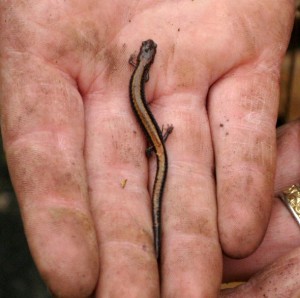 Not every research program that takes place in the Thain Family Forest is geared explicitly toward the trees, though the work done there does tend to knit together at the end of the day. Think of it as a domino effect; an influence on one organism can herald a drastic fallout for others in the web of an individual biome. And, in some cases, certain varieties of plants or animals are relied on as indicator species—"canaries in the coal mine" that speak to the overall health of a given area, signifying changes for better or worse that might otherwise be too subtle to recognize. Salamanders, wherever they're found, are often a flagship example.
In recent years, a handful of studies here have focused on the small salamander species that call our Forest home: the northern two-lined salamander (Eurycea bislineata), a water-reliant species native to the U.S. and Canada, and the terrestrial redback or woodland salamander (Plethodon cinereus), a species that has evolved to live away from water. Considering how delicate these quick, slippery little amphibians are on average, it's quite the feat to strike off and make a living under rocks and leaf litter. Of course, even a particular resilience among their own kind doesn't excuse them from the effects of climate, urbanization, and other challenges.