Posted in Horticulture on April 4 2016, by Joyce Newman
Joyce H. Newman is an environmental journalist and teacher. She holds a Certificate in Horticulture from The New York Botanical Garden.
---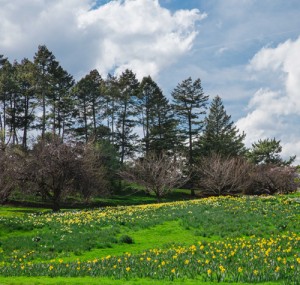 Two bulb experts, Michael Hagen, Curator of the Rock Garden and Native Plant Garden, and Marta McDowell, NYBG instructor, author, gardener, and landscape historian, recently commented on some frequently asked questions about the gorgeous spring bulbs now blossoming in the garden . Here's what they had to say.
Q: What are some of the easiest spring/early summer bulbs to grow?
McDowell: Narcissus seem to be almost indestructible and with so many varieties, you can have them in bloom for almost two months. Other choices: Crocosmia—graceful in leaf and flower and blackberry lily (Iris domestica or Belamcanda chinensis). Great foliage, flowers, and seed pods.
Q: What are some of the most difficult bulbs to grow, aside from climate issues?
Hagen: Climate aside, the hardest to grow are the ones that our native ground squirrels, chipmunks, woodchucks, and gophers enjoy eating. Species tulips have been a particular challenge in the Rock Garden. If it's a warm fall (and the chipmunks are not hibernating yet) they can be dug up and eaten right after they've been planted.