Posted in From the Library, Humanities Institute on July 10 2014, by Vanessa Sellers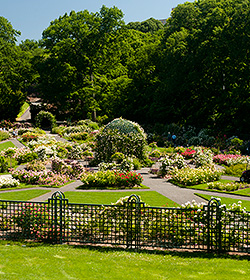 On June 20, 2014, The New York Botanical Garden's renowned LuEsther T. Mertz Library, directed by Susan Fraser, officially opened its new humanities division, coordinated by Vanessa B. Sellers.
The Humanities Institute's inaugural Symposium, Women and the City: From a Landscape Perspective, attracted a large and enthusiastic crowd to the Ross Lecture Hall.
The audience asked insightful questions relating to the topic of women as architects and photographers—a topic linked to the Garden-wide exhibition Groundbreakers. "Cities are the grand challenge of the 21st century, and for over one hundred years women have played a crucial, if under-celebrated, role in shaping and adapting our urban spaces," explained Thaisa Way (University of Washington, Seattle). This award-winning landscape historian moderated the fascinating morning session that featured four experts in landscape scholarship and practice, including Susannah Drake (Founding Principal, dlandstudio, Brooklyn), Sonja Dümpelmann (Harvard Graduate School of Design), Linda Jewell (University of California Berkeley), and Mary Woods (Cornell University).