Posted in Interesting Plant Stories on June 30, 2015 by Gregory Plunkett
Gregory M. Plunkett, Ph.D., is Director and Curator of the Cullman Program for Molecular Systematics at The New York Botanical Garden.
---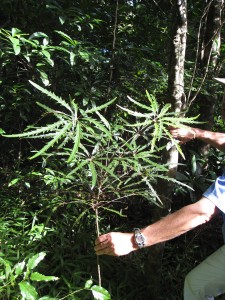 In 1912, the eminent horticulturalist Harry James Veitch helped move the Royal Horticultural Society's Great Spring Show to the Chelsea section of London, where his family's famous nursery firm, James Veitch & Sons, was headquartered. The show was thereafter known as the Chelsea Flower Show, an annual event that is considered the world's most famous horticultural exhibition. But while Harry was busy running the family firm, his brother John Gould Veitch was one of a select group of Victorian explorers who traveled the world seeking new plants to bring into cultivation.
One of these plants was Aralia elegantissima, which was first introduced to the world during the Great Spring Show of 1873. Since then, it's been called by many other names, including Dizygotheca elegantissima, Schefflera elegantissima, and Plerandra elegantissima. As the common element in those names suggests, its leaves are "most elegant," with slender, dark-green and smartly toothed leaflets, not unlike those of Cannabis. As it turns out, wild populations of this "False Aralia" are entirely restricted to the South Pacific island of New Caledonia, where Veitch originally discovered it. Today, it's widely cultivated as a "tropical foliage plant," gracing shopping centers and fast-food restaurants from New York to London to Tokyo. John Veitch would be duly proud of the success of his introduction. Unfortunately, the plant has not fared as well in its native New Caledonia, where it is on the brink of extinction due to habitat loss.