Posted in Interesting Plant Stories on August 25, 2017 by Charles Zimmerman
Charles Zimmerman is the Herbarium Collections and Outreach Administrator for the William and Lynda Steere Herbarium at The New York Botanical Garden.
---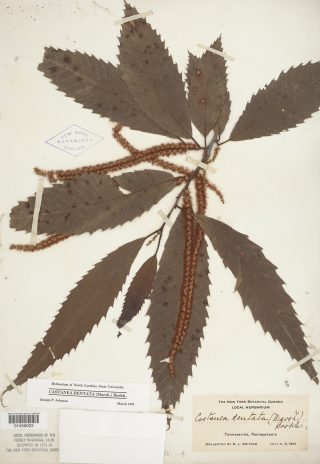 The William and Lynda Steere Herbarium is especially proud to report the successful completion of Phase I of our largest citizen-supported initiative to date, which makes much historic data for vascular plants of northeastern North America freely available online for the first time. Following the October 2016 launch of this WeDigBio worldwide citizen science event, over 190 online participants contributed a total of 7,177 transcriptions, providing new digital records for 300 species from familiar plant families including sunflowers (Asteraceae), blueberries (Ericaceae), oaks (Fagacae) and grasses (Poaceae).
Through an ongoing partnership with Notes from Nature, virtual volunteering for Steere Herbarium projects has quickly become the most accessible platform for citizen engagement in scientific research at The New York Botanical Garden. Using any computer with access to the Internet, curious and enthusiastic volunteers can view digital images of historic preserved plant specimens in our collection. Through self-guided training (and a little practice), participants interpret and transcribe the often handwritten information on a specimen sheet about the context in which a plant was found in the wild, including the name of the scientist who collected the sample, the geographic location, and the date of collection.