National Citizen Science Day
Saturday, April 13, 2019
Join us for the Fourth Annual Citizen Science Day, a nationally organized event to increase awareness of citizen science and help volunteers discover projects that contribute to the documentation of Earth's biodiversity. Take action with a wide range of activities, including bird, phenology, and urban naturalist tours, and so much more.
Nature at Your Doorstep: Celebrating the Public Participant in Research
Friday, April 12; 10 a.m.–12:30 p.m.
We're kicking Citizen Science Day off a day early with a symposium revealing how amateur naturalists throughout history have been indispensable to the study and documentation of the natural world.
Presented in partnership with NYBG's Center for Conservation Strategy and Humanities Institute.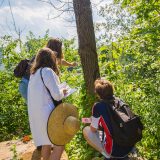 Tours & Activities
Saturday, April 13
Take part in a number of events and guided activities throughout the day, from exploring the Thain Family Forest during phenology tours to learning about pollinators in the Native Plant Garden.
NYBG Members Clean Up & Forest Tree Planting
10 a.m.–12 p.m.
Meet at the Reflecting Pool
NYBG Members join the Forest staff to native plants in restoration areas within the Thain Family Forest. Plant a tree and contribute to the bigger effort of managing a forest for future generations. Since 2008 staff and volunteers have planted more than 34,000 plants to work toward the forest management goal to improve forest health through active management informed by research. The restoration impact by volunteers is documented through hours, number of plants, and regular forest inventories.
Project Water DROP Workshops
10:30 a.m. & 12:30 p.m.
Meet at the Native Plant Garden Entrance
In order to track pollution across the watershed, the Bronx River Alliance has been monitoring the Bronx River's water quality for Project Water DROP (Detecting River Outfalls & Pollutants). Project Water DROP analyzes bacteria data to identify sewage pollution, helping locate and stop sewer outfalls that pollute the river. In these workshops, you'll discover how the Bronx River Watershed works and learn how you can help by collecting data. RSVP recommended.
Bird Walk
11 a.m.–12 p.m.
Meet at the Native Plant Garden Entrance
Bring your binoculars and walk the Garden grounds with a bird expert. You'll search for our feathered friends and learn more about bird-friendly habitats, passage birds, and those that make a permanent home at the Garden.
Pollinator Monitoring
12, 1, & 2 p.m.
Meet at the Native Plant Garden Entrance
Join NYBG Citizen Scientists to monitor pollinator visits to plants in the Native Plant Garden. They are documenting the diversity of pollinators for the Empire State Pollinator Survey and how much nectar is available to pollinators for the USA-NPN Nectar Connectors Campaign. Ultimately, their data will help us better understand how gardens can provide habitat and food for these important insects.
Phenology Tours
12:30 p.m.
Meet at the Native Plant Garden Entrance
NYBG volunteers have been tracking plant cycles of leaf, flower, and fruit development for 10 years. They will help you look closer at the plants within the Thain Family Forest and Living Collections, giving you an entirely new perspective of the Garden. All phenology walks are available in Garden Navigator for you to tour on your own.
Urban Naturalist Tour
2:30 p.m.
Meet at the Native Plant Garden Entrance
Tour NYBG as an urban naturalist: observe wildlife, plants, insects, and habitats in this urban oasis. Your Urban Naturalist guide will also provide firsthand information  on the Urban Naturalist Certificate Program, which equips you with the observation, identification, and documentation skills you need to become a citizen scientist and an effective environmental steward. Learn more about the program and how to sign up for courses.
Biodiversity Unleashed! Citizen Science Workshop
3 p.m.–4 p.m.
Library Building, 4th Floor, M402

Join with a worldwide community in helping researchers understand the changing biodiversity of our planet by uncovering natural history collections from the NYBG William and Lynda Steere Herbarium. Learn to embark on "virtual expeditions" to document plant specimens collected from around the world and throughout the centuries. RSVP recommended.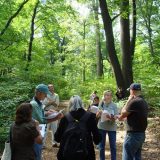 Citizen Science Central
Saturday, April 13; 11 a.m.–3 p.m.
Entrance to the Native Plant Garden 
Meet with NYBG experts and learn how you can become a Citizen Scientist.
New York City EcoFlora Project
The NYC EcoFlora project seeks to engage the public as citizen scientists to observe, collect, and compile information about the city's plants and their relationships with other organisms such as birds, insects, and mushrooms, and combine these data with all that is already known from natural history collections and scientific publications. Download the iNaturalist app and learn how to conduct your own observations.
Battle of the Boroughs iNaturalist Training
The City Nature Challenge is a global competition to see which community can observe the most nature in a four day period from April 26–29. In New York City it's called the Battle of the Boroughs and we are encouraging New Yorkers to pick their favorite borough and make as many observations as possible.  Help New York City be number one in the World and discover the diversity in your own backyard. Join us for an iNaturalist training workshop focused on how to make and upload the most high quality observations possible. RSVP here:
Find a Phenophase
Want to see what it's like to be a NYBG Phenology Citizen Scientist? Use Garden Navigator to discover NYBG's 250-acre grounds to find a specific plant and phenophase or a specific phase in the annual life cycle of the plant. Leaves and flowers will be present in April.
Saving the American Ash Project
An invasive beetle, Emerald Ash Borer (EAB), has killed tens of millions of Ash trees across the Midwest, and this pest is moving rapidly eastward through New York and New England. Ash tree mortality is nearly 100 percent within several years of beetle infestation, and there are no viable biological or chemical control solutions at the landscape level. In 2017 EAB was documented for the first time in New York City! Learn to identify Ash tree species and how to make observations of them using the iNaturalist app to document the occurrence of Ash trees and EAB infestation.
Virtual Herbarium Expeditions
Support research and conservation at NYBG as a citizen scientist by helping to explore our historic collection of herbarium specimens. Contributing to these "virtual expeditions" is fun and can be done from anywhere with access to the internet. Learn how to join with hundreds of participants today at nybg.org/virtual-volunteer
LuEsther T. Mertz Library Display
Learn about the story of Dr. John Torrey—the father of American Botany—and the Torrey Transcription project, which is dedicated to preserving, digitizing, and transcribing the letters written to Dr. Torrey by more than 350 correspondents. Also, you can view books and research materials on the Ash and Hemlock trees and learn about the threats to their existence, and how you can help.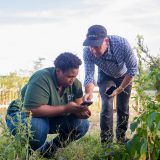 For Families: Kids Count!
11 a.m.–4 p.m.
Everett Children's Adventure Garden
Learn about a teen-led, three-season project to document leaf, flower, and fruit development in native plants growing in the Adventure Garden. Venture out to observe the pussy willow, a harbinger of spring. The data you gather contributes to the National Phenology Network's efforts to collect, store, and share phenology data and information worldwide.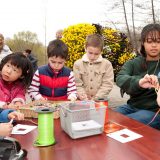 Nature: American Spring Live
Celebrate spring and participate in citizen science activities with American Spring LIVE, a three-day television event on Monday, April 29 – Wednesday, May 1 at 8:00 p.m. on PBS.  Tune in to watch the change from winter to spring in iconic locations across the country and learn how you can become a citizen scientist.
American Spring LIVE Information Table
11 a.m.–4 p.m.
Entrance to the Native Plant Garden
Discover how you can participate in American Spring LIVE and help gather critical data on the science of spring. Find out about locations around the garden where you can participate or how to join near your own community.
Celebrate Urban Birds
10 a.m.–3:30 p.m.; every thirty minutes on the hour and half hour
Meet at the Gazebo on the Mitsubishi Wetland Trail
Help scientists from the Cornell Lab of Ornithology better understand how birds use green spaces. American Spring LIVE representatives will help you observe for 10 minutes and look for local birds. Maybe you'll spot a Peregrine Falcon!
Track a Lilac
10 a.m.–4 p.m.
Meet at the Lilac Garden
Lilacs are among the first plants to grow leaves and flowers in the spring. Join Track a Lilac and help collect data scientists can use to confirm if spring is arriving earlier each year and if the growing season is getting longer. Understanding these changes is critical to addressing challenges that arise as the climate changes. Look for leaves sprouting on lilac bushes and contribute your observations to this important research.
American Spring LIVE: Citizen Science for Kids
10 a.m.–4 p.m.
Everett Children's Adventure Garden
Come join us for a variety of fun games and activities to celebrate spring and have fun with citizen science. Make pinecone feeders and origami butterflies. Join in creating a community garden from recycled materials. Play games, listen to stories about spring, and lots more.