Posted in Past and Present on July 1, 2016 by Stevenson Swanson
Stevenson Swanson is the Science Media Manager at The New York Botanical Garden.
---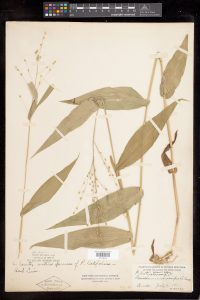 Watching some fireworks, going to the local parade, grilling burgers and hot dogs, maybe even finding time for a nap. Sounds like a classic Fourth of July. Collecting plant specimens is notably missing from this list. And yet, for botanists, our nation's birthday is not necessarily a day off.
A search of the C. V. Starr Virtual Herbarium, where The New York Botanical Garden's digitized herbarium specimens are made available online to researchers and the public, reveals that it includes no fewer than 6,808 specimens that were collected on a Fourth of July. They come from around the world, but more than 1,000 were snipped or dug up in the United States on Independence Day. They eventually found their way to the Botanical Garden's William and Lynda Steere Herbarium, where they are now part of the 7.8 million specimens that are preserved there and are now being digitized for the Starr Virtual Herbarium.