Posted in Gardening Tips on August 31 2009, by Sonia Uyterhoeven
| | |
| --- | --- |
| | Sonia Uyterhoeven is Gardener for Public Education. Join her each weekend for home gardening demonstrations on a variety of topics in the Home Gardening Center. |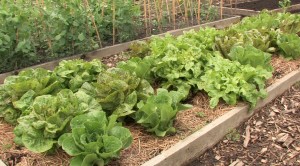 The lettuce that we find on our dinner tables, Lactuca sativa, differs greatly from its early progenitor found in ancient Egypt. The Egyptians dined on a plant that was similar to the weedy, prickly lettuce Lactuca serriola, which is very bitter and was blanched (grown in darkness) for a period of time to make it more palatable.
The bitterness comes from a latex or milky juice that is prominent in all lettuces when they mature and go to seed. This feature is denoted in both its Latin and common names. The Latin name, Lactuca sativa, translates into milky plant (Lactuca) grown from seed (sativa). The common name, lettuce, is derived from an old French word that means milky (laitues).
Lettuce is in the Asteraceae family. If you let it bolt (i.e. go to seed), you will be able to quickly identify its family of origin. The flowers have a distinctive daisy-like appearance and look like small dandelions.
There are many different kinds of lettuce. They are usually classified in the following main groups: Romaine (Cos), Butterhead, Crisphead, and Looseleaf.
Romaine or Cos lettuce was thought to have originated from Southern Europe (Greece and Italy). It is an upright plant with elongated leaves. It has a crunchy texture and sturdy leaves. Due to its warmer origins, romaine lettuce tends to be more heat tolerant than most other types. An interesting heirloom variety to try is the speckled 'Forellenschluss'.