Posted in Exhibitions, Kiku, Programs and Events on October 30 2009, by Plant Talk
Japanese Autumn Adventures Offers "Passport" of Fun

| | |
| --- | --- |
| | Noelle V. Dor is Museum Education Intern in the Everett Children's Adventure Garden. |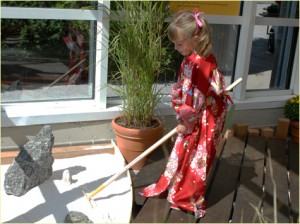 As the Northern Hemisphere inches away from the sun and life turns inward, The New York Botanical Garden is under way with Kiku in the Japanese Autumn Garden, a celebration of autumn and Japanese culture. While Kiku pays homage to Japan's annual Festival of Happiness, which honors the fall bloom and seemingly perfect beauty of the chrysanthemum flower, the Everett Children Adventure Garden's Japanese Autumn Adventures highlights an equally important plant in East Asian cultures: Camellia sinensis, commonly known as tea.
Of course, tea is immensely popular in the United States, too. Many people, however, know very little about tea such as the fact that "herbal teas" are not truly tea at all, or that white, green, black, and oolong teas are all derived from a single plant species.
Delving into the world of tea during my research and preparation for this program has deepened my fascination for the myriad ways in which plants and society intertwine over time. My interest in traditional Japanese culture—inspired and nurtured by various school projects and courses—made me even more excited to have this amazing opportunity to help others explore and enjoy a unique mixture of nature, art, and social customs.
During Japanese Autumn Adventures, in addition to learning all about tea and participating in a simulated tea ceremony, young visitors and their families get to do classic Japanese crafts such as fish printing (gyotaku) and paper-folding (origami) to create maple samaras that really spin!
At the beginning of their adventure, children will make their own field notebook, or "passport," granting them access to different "cities" (activity stations) and allowing them to keep a record of their experiences as they "travel" through Japan. Before departing, everyone should stop by the wishing shrine and leave an ema (Japanese for "wish").
My wish is for all hearts to be filled with love and joy. What's yours?