Posted in Exhibitions, Exhibitions, The Orchid Show, Video on February 26 2010, by Plant Talk
Beautiful Blooms, Old Havana, Cuban Countryside Featured
| | |
| --- | --- |
| | Laura Collier is Marketing Associate at The New York Botanical Garden. |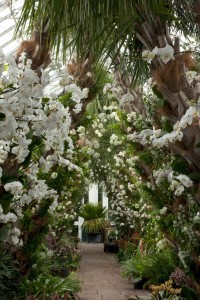 Garden staff have been working in overdrive for weeks, filling the Enid A. Haupt Conservatory with thousands of brilliant orchids and tropical plants in preparation for the 8th annual Orchid Show.
I've been craning my neck during every visit to the Conservatory to get a glimpse of the show being set up. Fortunately, Rustin Dwyer, our expert staff videographer, has been behind the scenes catching all the action. He's been working with Karen Daubmann, Director of Exhibitions, to document the details that go into the making of The Orchid Show: Cuba in Flower.
Check out the most up-to-date installment as well as all the videos building up to the opening in the box below. The show starts tomorrow, Saturday, February 27. I'll be stopping in to see all the beautiful blooms, which are displayed this year in vignettes from Old Havana and the Cuban countryside.
Hope to see you there!