Posted in Learning Experiences on September 30 2010, by Plant Talk
Teachers Come Free October 11 for Special Workshop & The Edible Garden
Jamie Boyer, Ph.D., is Director of Children's Education.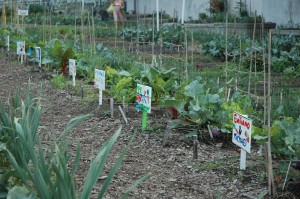 Now that autumn has arrived, most gardeners are turning their attention to harvesting and preparing their garden beds for winter. It would seem an unlikely time to think about starting a garden, especially at a school. However, anyone who has ventured down this road of creating and integrating a garden into a school curriculum knows there is a fair amount of needed preparation. In order to make the garden everything that is desired, school teachers and administrators need a planning period; autumn is the perfect time to start that process.
What many may not realize is that there are many different reasons to create a garden as well as many designs to accommodate the needs of the school community. For example, a garden may seem like an easy fit for those who teach science and desire a display garden to explore life cycles, soils, and plant-animal interactions.
Less obvious may be the important math, literacy, cultural, and community connections that a garden can offer. A garden that demonstrates dazzling patterns and quick-germinating plants to measure growth may be perfect for learning real-life math. A theme garden that displays a concept or a culture, such as a Native American three-sisters garden, is a great way for students to understand how plants are integral to communities.
Whatever the need or desire, The New York Botanical Garden has school garden experts who can help.
To this end, the Children's Education department will be hosting its annual Teacher Open House from 10 a.m. to 3 p.m. on Columbus Day, October 11. In addition to learning about the engaging nature programs in the Everett Children's Adventure Garden, and forest explorations with the GreenSchool, this year's event will include workshops at the Howell Family Garden to help teachers learn about building, managing, and integrating a garden into their everyday school routine.
So come for free (20 percent discount for family members) and enjoy The Edible Garden, see celebrity cooking demonstrations, chat with Children's Education staff, and participate in gardening workshops. For more information or to RSVP, please call 718.817.8157. See you there!