Posted in Around the Garden on May 31 2013, by Ann Rafalko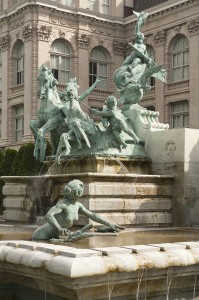 Step outside and one word springs to mind: Summer! And all signs point to it too–Memorial Day is in the rear view mirror, Manhattanhenge has graced the city's famous grid, and the cicadas are appearing around the region. What does that mean at the Garden? It's time to hang out in our gardens, that's what! No need to hurry-scurry around; take a Tram ride, sit in the shade, stroll around an Italian Garden, loll by the waterlily pools, stop and smell the roses (literally), and saunter around in the shade of the Forest or the Native Plant Garden. Good times, I promise you!
If that's not enough, and you're looking for some brainiac mental stimulation instead, we've got that too! As part of this weekend's World Science Festival we're offering tours of our science facilities, special lectures, and concerts. Yep, that's right, a science-based, cicada-centric concert! It doesn't get more geektastic than that!